Opening Week Impressions: Pacific Division
By Lorenzo Tanos
Ah, the Pacific Division. A certain team should be leading the way. Unfortunately they're hogging the bottom after one week and one day of basketball. Heck, they may have even been the least impressive team in the Pacific even before Wednesday's games. Read on and find out why.
The Golden State Warriors (2-2 1st, now 3-2) could be on their way to their second Playoffs berth in 19 years if they continue playing like they have. Their offense is above average, their defense is showing more improvement under Mark Jackson, and even with Brandon Rush possibly out for the year and Andrew Bogut struggling, they've got depth. Steph Curry, David Lee (except for his 2/16 debut) and Klay Thompson are all carrying their weight, but the best overall player so far has been sixth man Carl Landry. Harrison Barnes also seems to be making the most of his extended minutes following Rush's torn ACL.
Despite a slow start from Blake Griffin and injuries to graybeards Grant Hill and Chauncey Billups, the Los Angeles Clippers (2-2 1st, now 3-2) have gotten by fine early on. Of course, CP3 has a large part to play in that – he's still playing as well as he did last year. With Billups possibly missing a huge chunk of 2012-13, his shooting guard spot has been filed by Eric Bledsoe and Willie Green, but that platoon's not going to cut it. Maybe the Clips can move Caron Butler to the two and start Lamar Odom. Oh, wait a minute – Odom is playing even worse than he did last year with the Mavs. Perhaps the current rotation isn't that bad after all.
And now we're down to the most disappointing team in the early goings, the Los Angeles Lakers (1-3 1st, now 1-4). The Lakers' sole win over the Pistons was like a top-rate wrestler (read: sports entertainer) going over (i.e. winning over) a jobber, or someone who's paid to make the "superstars" look great. There is no chemistry, not much defense, and with Steve Nash injured, no quality point guard to run the floor. If I have one regret in my NBA preview, it's giving Mike Brown a C+. His coaching performance this season is worth a D- or worse. It's not like I'm wishing Phil Jackson would come back from retirement, but most other coaches would have already gotten the Lakers to jell at this point in time. And the Princeton offense doesn't seem to be working. You don't say.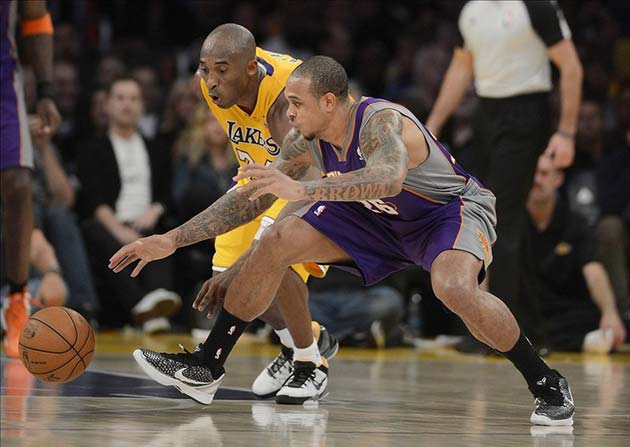 Yes, it's outside the scope of the first week, but Shannon Brown's recent performance (24 pts, 7 treys) in a win versus the Bobcats is a nice nod to NBA 2K13, where Brown is the Phoenix Suns' (1-3 1st, now 2-3) starting SG. GoranDragic is playing quite well in his first full-time starting gig, Luis Scola is steady and productive and MarcinGortat is especially threatening on "D" so far. (4.2 bpg as of this writing!) Michael Beasley, however, continues to underwhelm, and the second-string SF is P.J. Tucker. That's right, P.J. Tucker, a veteran of the European leagues! And Wes Johnson, the former fourth overall pick of the T-Wolves, isn't getting any love from Alvin Gentry. Why am I not surprised?
Free Marcus Thornton! That's my battle cry as someone who owns him in one fantasy NBA league and someone who thinks Tyreke Evans can do much better. The Sacramento Kings (1-3 1st, now 2-3) are playing decently with DeMarcus Cousins carrying the team, but they could do better. Evans has been the epitome of inconsistent, with a scoring line of 21-6-14-3-15. Actually, he might not be the only Kings backcourt man who needs to come off the bench. Isaiah Thomas is playing a lot like his fellow Washington alumnus Nate Robinson, which means he shoots first, passes later and is playing like an ideal sparkplug off the bench. So it stands to reason that Thornton and maybe Aaron Brooks should be starting. Why not?
Check out Opening Week Impressions: Southwest Division and Opening Week Impressions: Northwest Division.