Opening Week Impressions: Northwest Division
By Lorenzo Tanos
The Northwest has been one of the more interesting divisions in the first week of play, and that's not always a good thing. Following Wednesday's games, the Timberwolves are on top despite playing without Kevin Love and Ricky Rubio. Could this be a sign of things to come? Three games isn't 82 games, so you'll never know.
The Denver Nuggets (1-3 1st, now 2-3) lost their first three before winning their first against the hapless (so far) Detroit Pistons. (Notice a trend here? Struggling powerhouses getting their first win over the Pistons?) It looks like they're finding their groove, unlike another Western Conference favorite farther west who just can't get untracked. It's just strange that KostaKoufos is getting the starting nod over the far more productive JaVale McGee. Sure, McGee could be a toxic presence at times, but…KostaKoufos as starting center? Does that mean McGee will be third string once TimofeyMozgov returns from injury? We hope not.
Echoing the Mavs' first-week observations, no Love/Rubio, no problem for the Minnesota Timberwolves (2-1 1st week, now 3-1). And that's despite early struggles from Nikola Pekovic and Brandon Roy. Andrei Kirilenko doesn't appear like he's lost a beat. And Greg Stiemsma has filled in well as Pekovic's reliever. Derrick Williams, ideally, would've been the go-to guy without Kevin Love and Ricky Rubio; after all, he was last season's second-overall pick. But it looks like he's the 2011 Draft's answer to Wesley Johnson so far. Of course he's got 78 games to turn it around, but so far, it's not been a good sophomore campaign for the 6'8" combo forward.
The Oklahoma City Thunder (2-2) have gotten good scoring from Kevin Martin (19.3 ppg) but let's face it – he's no James Harden. And we're still waiting for monster games from Kevin Durant and Russell Westbrook. (Durant did grab 17 boards versus the Blazers and memorably posterize Raptors rookie Jonas Valanciunas, but he hasn't scored more than 23 points as of yet.) Westbrook still needs to improve his composure in clutch situations, though he did do a good defensive job against the Raptors' guards in the Thunder's last win. And moving on to the other Thunder players, could this be HasheemThabeet's (relative) breakout year? We're seeing some slight signs of improvement.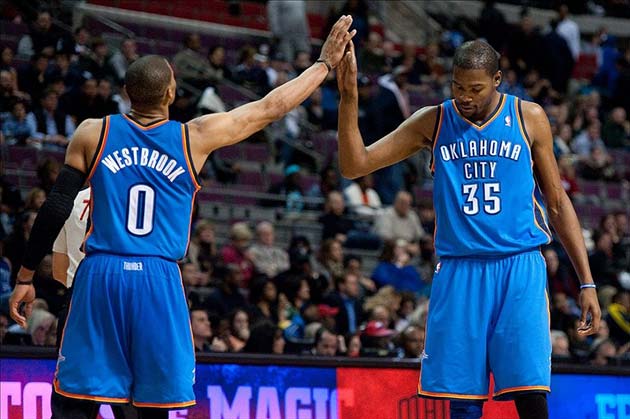 If I was wrong about the Cavs' Dion Waiters, I am right so far about Damian Lillard. The Portland Trailblazers' (2-2) rookie point guard (19.3 ppg, 8.0 apg) has been sensational for the most part, although he showed those rookie jitters by going 2/13 from the field against the Mavs. So far, he's the top candidate for Rookie of the Year. Most had expected NicBatum to be the #2 guy behind LaMarcus Aldridge, but he'll probably focus his energies more on defense as Lillard and Wesley Matthews provide ample scoring support behind Aldridge. Interesting stat – Aldridge, Lillard, Matthews and Batum are all averaging over 36 minutes per game as of the first week. Maybe Terry Stotts should give his bench players apart from Meyers Leonard and Sasha Pavlovic a few more chances to contribute.
The Utah Jazz (1-3 1st, now 2-3) are getting a lot of mileage from their ex-Clippers, starting PG Mo Williams and so-far super sixth man Randy Foye. Their lineup looks very balanced, and it was that balance that helped them beat the Lakers earlier today. And to think we still haven't seen Al Jefferson and Paul Millsap at their best. Elsewhere on the Jazz's lineup, Ty Corbin might really want to start Derrick Favors and send Marvin Williams to the bench.
Read more about the Opening Week Impressions: Southwest Division and Opening Week Impressions: Pacific Division.