NBA Northwest Division Preview for 2012-2013
By Lorenzo Tanos
DENVER NUGGETS
2011-12 RECORD – 38-28
PROJECTED ROTATIONS:
1st String – JaVale McGee (C), Kenneth Faried (PF), DaniloGallinari (SF), Andre Iguodala (SG), Ty Lawson (PG)
2nd String –TimofeyMozgov (C), Anthony Randolph (PF), Wilson Chandler (SF), Corey Brewer (SG), Andre Miller (PG)
Coaching staff – George Karl (HC), Melvin Hunt, John Welch, Chad Iske (A)
LAST YEAR'S LEADERS:
Scoring – Ty Lawson (16.4)
Rebounding –Kenneth Faried (7.7)
Assists – Andre Miller (6.7)
Steals – Lawson (1.3)
Blocks – JaVale McGee (1.6)*
Minutes – Lawson (34.8)
FRONTCOURT – Strangely, the Nuggets seemed quite insistent on using TimofeyMozgov as their starting center, even when JaVale McGee came over from the Wizards in the Nene trade. That might not be the case anymore, as McGee has since adjusted to the Nuggets' system. His dominant shotblocking and developing offensive game are a given, same with his potential to one day average a double-double, perhaps even 15-10. Still, his maturity, or lack thereof, remains his biggest weakness – coach George Karl should do a much better job trying to fix that. Mozgov should also continue to improve on both ends, as he still has potential to be an effective two-way player. KostaKoufos has a very similar skill set as Mozgov, but with less upside. Don't expect another 24 starts (or even 15 minutes a game) from him this season.
Rookie power forward Kenneth Faried was a big surprise as last year's 22nd overall pick. Despite standing just 6'8", the player nicknamed "Manimal" lived up to his new billing by proving to be an effective NBA rebounder and post-up scorer, if a bit shaky on defense. In a way, he's quite reminiscent of Danny Fortson, another undersized four who had a few good years for the Nuggets in the late '90s. At the three, DaniloGallinari was making lots of progress as a passer despite seeing his three-point shooting falter at just 33%. He should be back strong after an injury-shortened 2011-12 campaign. Wilson Chandler and Anthony Randolph will be the top backups. Chandler had a decent eight games last year after playing most of the lockout-shortened season in Europe; his explosive game and ability to play the two, three and four will help him in his projected new role as the Nuggets' sixth man, replacing Al Harrington. Randolph, who has teased us so often with his athleticism and potential, is heading fast towards bust territory and this may not be the season to turn things around. Unless, of course, somebody gets hurt. (B-)
BACKCOURT – The big trade of the 2012-13 offseason (known to most as the Dwight Howard trade) landed the Nuggets but one player, one whose performance will be strictly monitored by fans worldwide. Andre Iguodala, at his best, is worth the price of a rising young starter (ArronAfflalo) and a reliable veteran reserve (Al Harrington) put together. But last year for the Sixers, he was definitely not at his best. He got less touches, scored less points and inexplicably struggled from the line, shooting just 62% of his charity attempts. But he still played great defense and helped in other areas of the game. He should do better on offense, though, as he has Ty Lawson and Andre Miller as his point guards. As the Nuggets' starting point guard from day one, Lawson was a threat both as a facilitator and a scorer. And few point guards can go as fast as he can.Though his height limits what he can do defensively, Lawson gives an honest effort in that area. Miller will again reprise his role as first guard off the bench and elder statesman for the Nuggets. He's lost a few steps and has never been a good outside shooter, but he can still be very effective and efficient as a playmaker.
CoreyBrewer, a one-time lottery pick, has the inside track as reserve shooting guard because of his athleticism and defensive potential. He can also play small forward if asked to. Julyan Stone, who played sparingly last season, may very well lose his third-string job to first-round pick Evan Fournier. (B+)
COACHING – George Karl was Scott Skiles before there was a Scott Skiles…at least in terms of temperament as head coach. He's past that now – he's still intense, but no longer throws locker room tantrums or rips players mercilessly to the press just like he did back in the day. He's a respected coach with a wide-open style of play that works well with the lineup the Nuggets have right now. (A-)
DRAFT – When you're drafting 20th overall or later with a young and talented starting lineup, normally you want the best player available. Though I think that honor should have gone to Jared Sullinger (21st, Boston) or Perry Jones (28th, OKC), the Nuggets did well enough by drafting French shooting guard Evan Fournier in the first round. He's a good shooter and an underrated athlete who could see some minutes now that Rudy Fernandez is back in Spain. Second-rounder Quincy Miller (38th) is great as an off-the-dribble shooter, but is way too raw to see quality minutes as a 19-year-old one-and-done guy. 7'0" center/forward IzzetTurkyilmaz (50th) may remain in Europe. (B)
FREE AGENCY/TRADES – The Nuggets didn't do much lineup tinkering, with Randolph (FA from Minnesota) and Iguodala (four-way trade) the only veteran newcomers. Randolph is running out of chances, though a good part of his recent failures can be attributed to injury. Iguodala will make an immediate impact on defense, though we hope to see him regain some of that scoring touch. (B+)
SUMMARY –Expect to see more Mile High running and gunning, albeit with stronger defense from this nearly-intact lineup. However, the Nuggets may still fall short of literally stealing the Thunder's thunder and winning the division.
PROJECTION – 2nd in Northwest
MINNESOTA TIMBERWOLVES
2011-12 RECORD – 26-40
PROJECTED ROTATIONS:
1st String – Nikola Pekovic (C), Kevin Love (PF), Derrick Williams (SF), Brandon Roy (SG), Ricky Rubio (PG)
2nd String –Greg Stiemsma (C), Andrei Kirilenko (PF), Chase Budinger (SF), Alexey Shved (SG), J.J. Barea (PG)
3rd String – Louis Amundson (C), Dante Cunningham (PF), Malcolm Lee (SG), Luke Ridnour (PG)
Coaching staff – Rick Adelman (HC), Terry Porter, Jack Sikma, T.R. Dunn, Bill Bayno (A)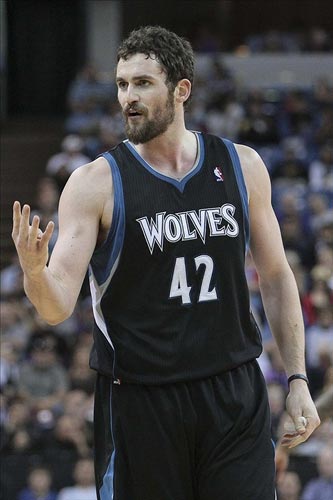 LAST YEAR'S LEADERS:
Scoring – Kevin Love (26.0)
Rebounding –Love (13.3)
Assists – Ricky Rubio (8.2)
Steals – Rubio (2.2)
Blocks – Anthony Randolph (1.0)
Minutes – Love (39.0)
FRONTCOURT – If Kevin Love could lead the Wolves to a winning season AND the Playoffs in 2012-13, the MVP award just might be his for the taking. He was arguably the best big man (four or five) in the NBA in 2011-12, and the scary part is that he just turned 24. He could easily be compiling 20-10 seasons for the next decade or so. And there doesn't seem to be a thing he couldn't do, except maybe block shots like the 6'10" player he is.
With the whole Michael Beasley saga done and over with, the starting small forward spot could go to last year's second-overall pick, Derrick Williams. Williams was a mild disappointment as a rookie, with the usual flashes of brilliance and wild inconsistency one would expect from a first-year guy. He's got the scoring ability, athleticism and talent to avoid the "bust" tag – it's all up to him to make the most of those potentially increased minutes. If he continues to disappoint, the returning Andrei Kirilenko could start at the three. As he's no longer the AK47 of old, he'll likely serve as a backup at both forward spots, where his versatility will come in very handy. And let's not forget Chase Budinger, the ex-Rocket with a dead eye from long range and above-average athleticism. He could be considered for a starting job at the three.
Nikola Pekovic, a revelation last year as a true starting center, provides everything you'd want in a seven-footer except defense. That said, he's that rare type of center who can score on high-percentage shots, make free throws and help out on the boards. He'll be backed up by ex-Boston Celtic Greg Stiemsma, who doesn't do much except block shots and play defense. Fellow free agent signees Lou Amundson and Dante Cunningham add depth to the frontcourt, though their exposure may be limited to garbage time. (B+)
BACKCOURT – Once the 2012-13 season starts, the Wolves' point guard rotation may look like this: Ridnour-Barea-Rubio (INJ). The order, however, may be reversed once Ricky Rubio's ACL heals up. Before that season-ending injury, Rubio was a prime candidate for Rookie of the Year, with his exciting, yet effective playmaking abilities and pesky defense. Yes, he too can shoot quite well, but he'll have to work on his shot selection, having shot at a woeful 36% clip from the field. In his absence, Luke Ridnour and J.J. Barea are the top contenders for the interim starting job. Ridnour may start early on due to his experience, but may find himself replaced by the similarly defensively-challenged Barea. Nonetheless, he's more of a threat to explode on offense than Ridnour. Rookie Alexey Shved can also be used at the point; he's a versatile 6'6" combo guard who turned a lot of heads with his performance with the Russian national team in the 2012 Olympics.
Comebacking Brandon Roy, whom we all though retired from pro ball last year at the tender age of 27, won't be the All-Star shooting guard he was for the Blazers just a few years ago. Still, he and Shved are an instant upgrade over unexpected NBA Draft bust Wesley Johnson. Anything above 12 ppg in about 25-27 minutes a game would make for a successful comeback, considering how bad his knees were at the time of his retirement. Depth could be a concern, though, if Roy's knees give in again. Aside from Shved, the only other possibilities at off-guard are Budinger and second-year man Malcolm Lee. (C+)
COACHING – Rick Adelman is probably second to the legendary Lenny Wilkens when it comes to being a true "player's coach", a man who earns his players' respect without having to scream, yell or cuss at them. And his version of the motion offense is tailor-made for the T-Wolves, a team that has one of the better-passing big men in the NBA in Kevin Love (though his assist numbers don't always show it). (A-)
DRAFT – It's been a while since the Wolves finally paid their dues following the Joe Smith brouhaha, but during the 2012 Draft, it sure felt that way as Minnesota didn't have a first-round pick. Their second-rounder, Purdue forward Robbie Hummel (58th), decided to play in Spain. He probably wouldn't have made the team anyway. (D)
FREE AGENCY/TRADES – Despite the criticism levied against Wolves owner Glen Taylor and GM David Kahn, management has been making the right moves as of late. Michael Beasley and the disappointing wing duo of Johnson and Martell Webster are gone, and Budinger, Kirilenko, Roy and Shved are in – these are all solid citizens who can definitely contribute much more than the players the Wolves gave up via trade or free agency. And lest we forget, Cunningham, Stiemsma and Amundson are all capable of contributing defensively; though they're slated for reserve roles, they could help Minnesota improve on "D" as the team finished 25th in points allowed in 2011-12. (B+)
SUMMARY – Poor defense is still the biggest concern in the Wolves' lineup, but as we just mentioned, they're taking the right steps to improve in that department. Love will be a definite MVP candidate and Rubio's return could yield immediate results, but for now, their best bet is to hope for the 8th seed in the 2012-13 Playoffs.
PROJECTION – 3rd in Northwest
OKLAHOMA CITY THUNDER
2011-12 RECORD – 47-19
PROJECTED ROTATIONS:
1st String – Kendrick Perkins (C), Serge Ibaka (PF), Kevin Durant (SF), Thabo Sefolosha (SG), Russell Westbrook (PG)
2nd String –Cole Aldrich (C), Nick Collison (PF), Perry Jones (SF), James Harden (SG), Eric Maynor (PG)
3rd String – HasheemThabeet (C), Daniel Orton (C), Lazar Hayward (SF),Daequan Cook (SG), Reggie Jackson (SG)
Coaching staff – Scott Brooks (HC), Mark Bryant, Maurice Cheeks, Rex Kalamian, Brian Keefe, MazTrakh (A)
LAST YEAR'S LEADERS:
Scoring – Kevin Durant (28.0)
Rebounding –Durant (8.0)
Assists – Russell Westbrook (5.5)
Steals – Westbrook (1.7)
Blocks – Serge Ibaka (3.7)
Minutes – Durant (38.6)
FRONTCOURT – Let's get the obvious out of the way – Kevin Durant is a top candidate for MVP and the best small forward in the Western Conference. Though he failed to top his career high in scoring, he set new highs in field goal percentage (49.6%), rebounding (8.0 rpg), assists (3.5 apg) and blocks (1.2 bpg), and played even better in the Playoffs, even if it wasn't quite enough to upset the Miami Heat. As long as he's healthy, which he's been for all but 14 games in his five-year career, the Thunder could find themselves in the thick of the Western Conference championship hunt. He'll again be complemented by Serge Ibaka, who doesn't score much (9.1 ppg in 27.2 mpg) but blocks a ton of shots – his NBA-leading 3.7 per game helped him to a sure spot on the NBA All-Defensive First Team last season. His continued improvement is the reason Scott Brooks may want to play Ibaka more and Nick Collison less. Collison, a one-time lottery pick who has never averaged in double figures, is more of a role player than ever – he's a modern-day version of Adam Keefe (i.e. highly-touted college big man turned role playing reserve) with a much better shot selection. Rookie Perry Jones could see action at both forward spots with his tantalizing potential; apart from being a good athlete with decent shooting range, he handles the ball very well for someone 6'11".
Kendrick Perkins will be the starting center by virtue of his defensive and rebounding ability alone. Though the Thunder placed 17th in points allowed per game (mostly a result of their up-tempo pace), they allowed opponents to shoot only 43% from the field, and it's in large part due to Perkins and Ibaka's effective defense in the paint. Now things may get a bit iffy when it comes to the backup five spot. Collison could play that part, with Jones as the reserve four and Lazar Hayward backing up Durant. But the more likely scenario here could be Cole Aldrich finally getting his shot as second-string center. It will be do-or-die time for the 11th pick in the 2010 Draft, as he still has that defensive potential and overlooked low-post game that could earn him some serious minutes. While the jury's out on Aldrich as a draft bust, it's long been in for former second-overall pick HasheemThabeet, who, together with Daniel Orton, may spend a lot of time languishing in the D-League. (A-)
BACKCOURT – Hard to believe it, but Russell Westbrook was expected by many to be a defensive-oriented, pass-first point guard when he was drafted. That obviously didn't quite happen, as Westbrook has long since emerged as one of the NBA's best and most complete floor leaders, with a knack for getting to the hole and drawing shooting fouls. And he's still a top-notch defender. All told, 2011-12 was arguably his best season ever. We say arguably because his assist numbers were down from 8.3 to 5.5 per game. Speaking of defense, Thabo Sefolosha does that quite well from the two-guard spot. His job is to shut down opposing gunners, hit a three every now and then, and make sure the water's fine before being relieved by 2011-12 Sixth Man of the Year James Harden. Opponents had every reason to "fear the beard" with Harden on the court – he doesn't have elite athleticism, but he plays smartly, takes good shots (career-high 49% FG shooting) and doesn't have any glaring weakness.
The Thunder hope that Eric Maynor, who missed all but nine games last year with a torn ACL, will be healthy, as he's been a reliable backup to Westbrook since joining the team midway through the 2009-10 season. Daequan Cook is also in the backcourt mix as a designated long-range bomber, as is Reggie Jackson, a second-year combo guard who shot just 32% in his rookie year. (A-)
COACHING – Though Scott Brooks is definitely more intense than he was as a laid-back backup point guard in his playing days, he's another one of those coaches who doesn't need to rip into a player or act as a dictator to make his point. He's still learning the finer points of the X's and O's side of things, but he deserves recognition for letting the Thunder run up the scoreboard while making sure the other side of the game isn't neglected. (B+)
DRAFT – The Thunder were extremely lucky to have Perry Jones III (28th) fall into their laps after being projected by many as a lottery pick, mid-first round at the lowest. Granted, his stock had fallen a bit in his sophomore year at Baylor, but he has the tools to succeed in the NBA. He should be a competent backup to Durant at the three, while playing PF or even center when the Thunder decide to play small-ball, which may be often. (A+)
FREE AGENCY/TRADES – By adding lottery epic fail HasheemThabeet and Daniel Orton, the Thunder are hoping either young center would replace the contributions of free agent departure Nazr Mohammed. That doesn't seem as possible with them as it is with Aldrich. (D)
SUMMARY – If it ain't broke, don't fix it. This relatively unchanged Thunder lineup is a heads-on favorite to return to the Western Conference Finals, but they're still young, and may have their work cut out for them against the vastly improved L.A. Lakers.
PROJECTION – 1st in Northwest
PORTLAND TRAILBLAZERS
2011-12 RECORD – 28-38
PROJECTED ROTATIONS:
1st String – LaMarcus Aldridge (C), J.J. Hickson (PF), Nicolas Batum (SF), Wesley Matthews (SG), Damian Lillard (PG)
2nd String –Meyers Leonard (C), Joel Freeland (PF), Victor Claver (SF), Sasha Pavlovic (SG), Nolan Smith (PG)
3rd String –Luke Babbitt (PF), Jared Jeffries (SF), Will Barton (SG), Elliot Williams (SG), Ronnie Price (PG)
Coaching staff – Terry Stotts (HC), Kaleb Canales, Kim Hughes, Dale Osbourne, Jay Triano, David Vanterpool (A)
LAST YEAR'S LEADERS:
Scoring – LaMarcus Aldridge (21.7)
Rebounding –Marcus Camby (8.9)
Assists – Raymond Felton (6.5)
Steals – Wesley Matthews (1.5)
Blocks – Marcus Camby (1.4)*
Minutes – Aldridge (36.3)
FRONTCOURT – No question about it, this is LaMarcus Aldridge's team now. And he might be forced to play center this time around, considering the fact J.J. Hickson only stands 6'9" and rookies Meyers Leonard and Joel Freeland are too raw to start. As a natural power forward with loads of agility and a great offensive game, he deserves to earn that long-overdue All-Star berth. Unfortunately, he's the only All-Star caliber player the Blazers have. Hickson, who will likely be starting at power forward, seemed to be on the verge of putting it together when Aldridge went down with injury. He averaged 15.1 ppg and 8.3 rpg on 54% shooting after the Blazers picked him up on waivers. Then again, he was horrible as the Kings' backup four, bad enough for them to waive him right before Portland gave his NBA career a new lease on life. Hopefully he can find consistency in 2012-13. Leonard could eventually earn a starting job if Hickson reverts to his old ways. He moves very well for a man his size (7'1"-245) and can contribute on both ends.Freeland will finally be making his debut, six years after the Blazers drafted him in the tail end of the 2006 Draft. He'll be a nice pick-and-pop player, much like Aldridge, but the English forward/center will need some time to acclimate himself to the NBA game.
The small forward position is all Nicolas Batum's, as he continues to develop as a two-way threat on offense and defense. He's also one of the more accurate three-point shooters in the NBA, with a 39% clip from last season. Batum will be backed up either by Luke Babbitt or 2009 first-rounder Victor Claver, who spent the last six years playing for Valencia in Spain's Liga ACB. He's an interesting prospect with above-average athleticism and a versatile offensive game, and could surprise a few by earning quality minutes. Babbitt got some playing time following Aldridge's injury and can be a nice insurance policy at both forward positions. Journeyman Jared Jeffries can play and defend all three frontcourt positions, but aside from "D" he offers little else. (C)
BACKCOURT – The onus will be on a first-year player to guide the Blazers this 2012-13 season. Damian Lillard was considered the top point guard prospect in the 2012 Draft class, and with good reason. Though purely a shoot-first point guard at this point, he could possibly follow a similar career trajectory as the Warriors' Stephen Curry. His top backup will be second-generation pro Nolan Smith, another youngster who is still stuck at the role of "tweener" guard. Ronnie Price will be the third-stringer, and may even be considered as the top reliever at point guard if Smith fails to progress.
The Blazers will need someone to step up big-time as the second option on offense. If Batum isn't up to it and if Lillard experiences more rookie growing pains than expected, Wesley Matthews could be that player. Despite a slight uptick in minutes per game, Matthews regressed in his third NBA season. But he'll be the starter by default, because like the point guard slot, there isn't much depth at shooting guard. Sasha Pavlovic and second-rounder Will Barton are the top backcourt reserves; Pavlovic is coming off one of his least productive NBA seasons ever, a benchwarmer's role with the Celtics. Experience, which is sorely lacking in the 2012-13 Blazers, will be his big edge. Barton has the makings of a draft sleeper, and has a similar skill set to Matthews except for his below-average outside shooting. (D)
COACHING – Terry Stotts, who has a career NBA coaching record of 115-168, has never had a winning record as an NBA head coach. But somehow, his vision of an up-tempo game with lots of threes meshes with the lineup the Blazers currently have. He's a skilled offensive coach who may yet again be thrown under the bus, as Portland is in full-on rebuilding mode with a very young lineup. (C+)
DRAFT – The Blazers' 2012 crop of draftees couldn't have been any better. Lillard (6th) is almost assured of a starting job at point guard. Leonard (11th) could earn himself a starting job, but that's all dependent on how well Hickson plays – will he be as good as he was in 19 games with the Blazers, or as bad as he was with the Kings earlier in the season? Barton (40th) is a quintessential "energy guy" with a high motor and defensive potential. Freeland (30th, 2006) and Claver (22nd, 2009) will also make their NBA debuts after spending the past few years in the European circuit. (A+)
FREE AGENCY/TRADES – Not much to see here. Jeffries, Pavlovic and Price are all career NBA reserves whose best asset for this young team is their experience.(D-)
SUMMARY – Since Brandon Roy's career-threatening injuries, the Blazers have quickly gone from perennial playoff contenders to one of the NBA's youngest, least experienced and dare we say, weaker teams. As many as five rookies could be seeing extended playing time, and outside of Aldridge, there aren't any true stars on this team. At least the lineup isn't as troublesome on and off-court as those Jail Blazers of old.
PROJECTION – 5th in Northwest
UTAH JAZZ
2011-12 RECORD – 36-30
PROJECTED ROTATIONS:
1st String – Al Jefferson (C), Paul Millsap (PF), Gordon Hayward (SF), Randy Foye (SG), Mo Williams (PG)
2nd String –EnesKanter (C), Derrick Favors (PF), Marvin Williams (SF), Raja Bell (SG), Earl Watson (PG)
3rd String –Jeremy Evans (SF), DeMarre Carroll (SF), Alec Burks (SG), Kevin Murphy (SG), Jamaal Tinsley (PG)
Coaching staff – Tyrone Corbin (HC), Jeff Hornacek, Sidney Lowe, Mike Sanders (A)
LAST YEAR'S LEADERS:
Scoring – Al Jefferson (19.2)
Rebounding – Jefferson (9.6)
Assists – Devin Harris (5.0)
Steals – Paul Millsap (1.8)
Blocks – Jefferson (1.7)
Minutes – Jefferson (34.0)
FRONTCOURT – The Jazz are in a bit of a conundrum. A quandary. A dilemma. Derrick Favors and EnesKanter are two former third-overall picks who can play forward and center and play it quite well if given the chance. However, they don't get too many chances behind Al Jefferson and Paul Millsap. At one point or another, either Favors or Kantercould complain about a lack of minutes, and one of them may have to be traded. So far that hasn't happened, but it just might, because they're too good to be the usual backups to two relatively young and talented frontcourt men. Moving on to the starting big men, Jefferson is a rarity, one of those few centers who can hit at least 50% from the field and 75% from the line. He can haul down the boards and block some shots. But even if he's an above average shot blocker, Jefferson can stand to improve on "D." That's where Favors would come in. And defense is one of those things Millsap does quite well; like Jefferson, he'll make his field goals and free throws and fight on the boards. Expect another solid season from him as second or third offensive option.
While Al Jeff and Millsap are locked in as starters at center and PF, starting small forward is up for grabs between Gordon Hayward and Marvin Williams. Hayward has youth, work ethic and a good shooting stroke on his side as he competes with Williams, who's the better athlete but a huge disappointment as a one-time second-overall pick. DeMarre Carroll and Jeremy Evans are also options at small forward, but don't expect to see big minutes from them if everyone's healthy. (B+)
BACKCOURT – By returning to the team that had picked him in the second round of the 2003 Draft, Mo Williams hopes to recapture his old form, though asking for another All-Star caliber season like 2009 may be too much to ask. He's more of a shoot-first playmaker and doesn't play much defense, but he should be less trouble for the Jazz than the extremely disappointing Devin Harris. Earl Watson will reprise his backup PG role, and that's where the "D" and pure playmaking would come in. His abysmal 34% field goal percentage doesn't hurt the Jazz much because he hardly shoots anyway.Once-promising PG Jamaal Tinsley and rookie Kevin Murphy, a shooting guard, will battle for a third-string spot.
The Jazz's shooting guard depth chart is mostly made up of a hodgepodge of players who are best suited as reserves on most other teams – Randy Foye, Raja Bell and Alec Burks. Foye is best used as a three-point specialist at this point in his career, albeit one you could leave on the court for about 20-25 minutes a game. Bell is a combo long-range bomber/defensive specialist who just turned 36 and is a bit past his prime. Burks is the exact opposite – a second-year scoring machine who gets most of his points as a slasher but needs work on the other end of the floor. Don't be surprised if the Jazz go big with a starting lineup of Mo Williams and Hayward at guard, Millsap and Favors at forward and Jefferson at center. That's how slim the pickings are at the two-guard spot. (D)
COACHING – In his first full year as head coach, Ty Corbin eschewed the conservative offense of his predecessor Jerry Sloan and had the Jazz running and shooting en route to 99.7 ppg, good for fourth in the league. He'll have to get his players to focus more on defense (99.0 ppg allowed, 23rd in 2011-12), which ideally won't be a problem, as Corbin was known as a hustle player and scrappy defender in his playing days. (C)
DRAFT – Kevin Murphy (47th) was the Jazz's only pick in the 2012 Draft out of Tennessee Tech. A 6'6" shooting guard who emerged from mid-major obscurity with a strong performance at the Portsmouth Invitational Tournament, Murphy has a solid chance of making the roster with his scoring and shooting skills. (C)
FREE AGENCY/TRADES – Former Clippers Mo Williams and Randy Foye will provide immediate help to a weak backcourt that was once helmed by Devin Harris, whose slide from All-Star caliber to mediocrity continues to befuddle pundits. Harris was traded to Atlanta for Marvin Williams, another player who's dashed his share of hopes and expectations. He's not a bad player by any stretch, just one who should've done more considering his lofty draft status. (B-)
SUMMARY –The Jazz are at a point where they're practically running in place, fighting for the final playoff berth but not getting significantly better nor worse. If Minnesota's Ricky Rubio is out longer than expected, Utah might get that eighth Western Conference playoff berth once again. However, it looks like the Jazz might miss the 2012-13 Playoffs by a hair with their current lineup.
PROJECTION – 4th in Northwest
Read more about 2012-2013 NBA Division Previews: The Pacific Division.