2012-2013 NBA Division Previews: The Pacific Division
By Lorenzo Tanos
GOLDEN STATE WARRIORS
2011-12 RECORD – 23-43
PROJECTED ROTATIONS:
1st String – Andrew Bogut (C), David Lee (PF), Harrison Barnes (SF), Klay Thompson (SG), Stephen Curry (PG)
2nd String –Festus Ezeli (C), Carl Landry (PF), Richard Jefferson (SF), Brandon Rush (SG), Jarrett Jack (PG)
3rd String – Andris Biedrins(C), Jeremy Tyler (PF), Draymond Green (SF), Kent Bazemore (SG), Charles Jenkins (PG)
Coaching staff – Mark Jackson (HC), Mike Malone, Pete Myers, Jerry DeGregorio (A)
LAST YEAR'S LEADERS:
Scoring – Monta Ellis (21.9)*
Rebounding –David Lee (9.6)
Assists – Ellis (6.0)*
Steals – Ellis (1.5)*
Blocks – Ekpe Udoh (1.7)*
Minutes – Lee (37.2)
FRONTCOURT – An ankle injury ended Andrew Bogut's 2011-12 season shortly after it began – after just 12 games, to be exact. This isn't anything new for the eight-year veteran, who has missed 10 games or more in all but two seasons since his 2005-06 rookie campaign. (Ironically, Bogut played all 82 games as a rookie!) When he's healthy, he's one of the NBA's pure centers, an excellent defender who shoots at a high percentage, a guaranteed 15-10 points and rebounds on most nights. If he's not healthy, the Warriors will turn to either Festus Ezeli or Andris Biedrins. Ezeli, a first-rounder out of Vanderbilt, is a huge project. He wasn't a dominating rebounder in college despite standing nearly seven feet tall. But he can play defense, which will endear him to head coach Mark Jackson. Biedrins, unfortunately, is all washed up at only 26.
The question marks at the center spot make David Lee's presence more important than ever. In his second season as a Warrior, Lee nearly recorded a 20-10 campaign, and also contributed as a skilled passer and accurate free throw shooter. He'll be asked to carry the Warriors' offensive load yet again if Bogut and Stephen Curry have a brittle 2012-13. His experience is also very essential on such a young team, especially since seventh pick Harrison Barnes may be starting at SF. Barnes will experience those growing pains so many rookies do, but he has the tools and the work ethic to be an NBA star in a few years' time. If he doesn't start, Carl Landry or Richard Jefferson could get the nod. Landry's calling card is off-the-bench scoring at both forward spots, while Jefferson, a one-time 20 ppg guy for the Nets, is primarily a three-point specialist at this point. Brandon Rush, who's expected to see most his minutes at the two-guard spot, could also start at the three. (B)
BACKCOURT – As of this writing, Stephen Curry's ankle problems continue to haunt him. What seemed like a "mere" sprain ended up costing Curry more than half of last season, as he struggled with a career-low 14.7 ppg and 28.2 mpg. If he can avoid further aggravating his injury, Curry could very well flirt with 20 points and 7 assists an outing. But if that ankle remains a problem, Jarrett Jack will start at the point. After a career year with the Hornets, Jack was acquired via trade as an insurance policy of sorts, albeit a very good one. Charles Jenkins had a decent rookie year in 2011-12, but he's not the point guard you want starting 28 games, just like he did last season.
Klay Thompson, who was picked in the first round last year by the Warriors, started off slow, but when he started dropping 20-point games with regularity, that more or less necessitated Monta Ellis' trade to the Milwaukee Bucks. His ability to knock down threes will again be an integral part of the Warriors' offense in 2012-13, although he needs a lot of work on the other end of the floor. Rush, who will reprise his role as top guard off the bench, shot 50% from the field, 45% from long range and 79% from the line. If he was only more assertive on offense, he'd be a potential Sixth Man of the Year candidate. (B)
COACHING – Mark Jackson took over last season as Warriors' head coach with one thing in mind – improving the team's defense. Though that obviously didn't happen (28th in scoring defense), it was hardly his fault that the Warriors continue to look bad as a defensive team. This season should be a better test of his ability to teach the Warriors some "D", now that his first season as an NBA head coach is mercifully over and done with. (B-)
DRAFT – The Warriors did a very good job drafting based on need, selecting Barnes (7th) and Ezeli (30th) in the first round of the 2012 Draft. Barnes is an athletic and fluid wing player who may get first crack at replacing Dorell Wright as the Warriors' starting SF. Ezeli will add depth to the center spot and could turn out to be a steal if he develops faster than expected. Draymond Green (35th) has a prototypical tweener forward's size and game, and may spend more time in the D-League than on an NBA lineup. Bosnian center Ognjen Kuzmic (52nd) will remain in the Spanish leagues. (A)
FREE AGENCY/TRADES – The most significant move the Warriors made in the off-season was unloading the backsliding Wright and acquiring Jack through a three-way trade that sent Wright to Philly. Though his numbers don't show it, Jack is a capable defender and more importantly, a great guy to have around in the event of Curry re-rolling his ankle. Free agent signee Carl Landry will provide his usual scoring punch as the first frontcourt man off the bench. (B+)
SUMMARY – Everything is contingent on Golden State's key players staying healthy. If Bogut and Curry can play at least 75 games, the Warriors could earn the 8th Western Conference Playoffs seed. If Barnes is better than advertised, they could be even better. But if the injury woes continue like they did last year, the Warriors could be going home early for the 19th time in 21 seasons.
PROJECTION – 3rdin Pacific
LOS ANGELES CLIPPERS
2011-12 RECORD – 40-26
PROJECTED ROTATIONS:
1st String – DeAndre Jordan (C), Blake Griffin (PF), Caron Butler (SF), Chauncey Billups (SG), Chris Paul (PG)
2nd String –Ronny Turiaf (C), Lamar Odom (PF), Grant Hill (SF), Jamal Crawford (SG), Eric Bledsoe (PG)
3rd String – Ryan Hollins (C), Trey Thompkins (PF), Matt Barnes (SF), Willie Green (SG), Travis Leslie (SG)
Coaching staff – Vinny Del Negro (HC), Marc Iavaroni, Dean Demopoulos, Robert Pack, Howard Eisley (A)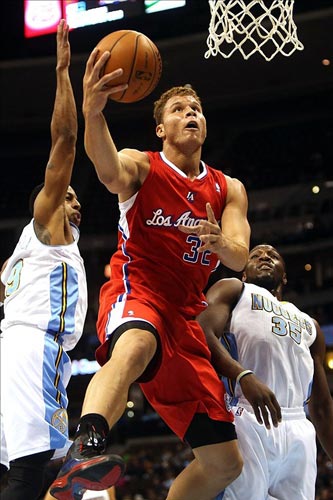 LAST YEAR'S LEADERS:
Scoring – Blake Griffin (20.7)
Rebounding –Griffin (10.9)
Assists – Chris Paul (9.1)
Steals – Paul (2.5)
Blocks – DeAndre Jordan (2.0)
Minutes – Paul (36.4)
FRONTCOURT – Despite slightly reduced numbers, Blake Griffin still turned in a season worthy of one of the NBA's best big men. His recent knee pre-Olympics knee injury notwithstanding, Griffin has been very durable after missing his entire rookie season, playing in 148 consecutive NBA games thus far; fortunately, he should be alright once the 2012-13 season kicks off. As usual, free throw shooting (52%) remained his weakness. Otherwise, Chris Paul to Blake Griffin just could be this generation's answer to Stockton-to-Malone. At center, DeAndre Jordan continued progressing as a promising young defensive specialist. He'll provide more of the same – blocked shots, energetic rebounding and the occasional putback. If he stays out of foul trouble more often, he could have a breakout year.
Small forward will, unfortunately, remain the weakest and oldest link in the Clippers' frontcourt. As one of the Clippers' new additions last year, Caron Butler frustrated coaches and fantasy basketball players alike with his inconsistency. He was especially prone to scoring big in the first half and disappearing in the second or worse, never getting untracked in the course of the game. It's clear that his best NBA days are over. The same has long applied to 40-year-old Grant Hill, who joins the Clippers for his 19th and probably last NBA campaign. Still, he's far more consistent and a great presence in the clubhouse. The always-unpredictable Matt Barnes could see the least minutes in his NBA career since 2005-06 as the odd man out at the three spot.
The Clips' other frontcourt reserves include veterans Lamar Odom and Ronny Turiaf. Odom will return to the team that drafted him back in 1999, and he's got a lot to prove; last season with Dallas was by far his worst in the NBA. As he was still very productive two years ago with the Lakers, it's too early to give up on him. Turiaf, who's fresh off a brief stint with the 2011-12 champion Miami Heat, is still capable of an honest effort on "D", albeit with little to offer on offense.(B+)
BACKCOURT – It wasn't exactly a career resurgence as he's never had a bad year, but Chris Paul bounced back very strongly in his first Clippers season, right after a 2009-10 where he averaged a career-low in points and his lowest field goal shooting since 2006-07. He'll be captaining the Clippers offense and defense from the point guard spot, and making the "Lob City" attack work as well as it did in 2011-12. However, we're not sure yet of who would be starting alongside Paul.
So who's at shooting guard? It could be Chauncey Billups, who played just 20 games before being injured. He's nice to have around in the clutch, but he's 36 years old and may probably be better off as a backup point guard rather than a starting off-guard. It could be Eric Bledsoe, a third-year combo guard who regressed last season after a promising rookie year. He's too raw and inconsistent to get starter's minutes. Or it could be Jamal Crawford, who's played the role of explosive sixth man in his last three seasons for Atlanta and Portland. Despite shooting just 38% from the field and 31% from outside the arc, Crawford may reprise his sixth man role and play 30 minutes a game in his first Clippers season. Veteran Willie Green and sophomore Travis Leslie will compete for garbage minutes in the backcourt. (B+)
COACHING – In a way, Vinny Del Negro's many critics have a point. To call his offense predictable is stating the obvious, and there were many whispers of locker room dissension as a result of Del Negro's coaching style and player management. That said, he'll definitely need to add a few wrinkles to the Clips' offense and do a better job rotating his players. (D+)
DRAFT – No draft picks this season – Turkish forward Furkan Aldemir's (53rd) draft rights were traded to the Houston Rockets in the Lamar Odom deal. (N/A)
FREE AGENCY/TRADES –Though not in the same level as New York's mass acquisition of geriatric veterans, the Clippers sure aged their lineup quickly in the off-season. Crawford and Barnes are 32, Odom 33 and Hill an even four decades old. But just like the Knicks acquired all those oldsters to bolster their defense, there's a reason behind the rhyme for the Clips. It's all about adding more clubhouse stability and bench depth. But don't expect them to stick around too long. (B+)
SUMMARY –Something unusual in Clippers history is likely in 2012-13 – two Playoffs in a row beyond the first round. And management, for once, has made some good off-season moves. Still, it would've been better if Clippers management set its eyes on acquiring younger free agents rather than aging (or aged, in Grant Hill's case) short-term solutions.
PROJECTION – 2nd in Northwest
LOS ANGELES LAKERS
2011-12 RECORD – 41-25
PROJECTED ROTATIONS:
1st String – Dwight Howard (C), Pau Gasol (PF), Metta World Peace (SF), Kobe Bryant (SG), Steve Nash (PG)
2nd String –Jordan Hill (C), Antawn Jamison (PF), Earl Clark (SF), Jodie Meeks (SG), Steve Blake (PG)
3rd String – Robert Sacre (C), Devin Ebanks (SF),Andrew Goudelock (SG), Chris Duhon (PG), Darius Morris (PG)
Coaching staff – Mike Brown (HC), Chuck Person, Darvin Ham, Eddie Jordan, Bernie Bickerstaff (A)
LAST YEAR'S LEADERS:
Scoring – Kobe Bryant (27.9)
Rebounding –Andrew Bynum (11.8)
Assists – Ramon Sessions (6.2)*
Steals – Bryant (1.2)
Blocks – Bynum (1.9)
Minutes – Bryant (38.5)
FRONTCOURT – The Dwight Howard-wants-out-of-Orlando saga ended with the 26-year-old center (turning 27 in December) joining the Lakers in a four-way trade that helped turned a good lineup into a great one. Hopefully his back would be fine by the time the 2012-13 season starts, because it was that herniated disk that was responsible for Howard having his least impressive season in over five years, not to mention missing a career-high 12 games. When he's healthy, he's a cinch for 20-10 and 2-3 blocks almost every night. Pau Gasol, who had been mentioned numerous times in Howard trade rumors, is still a Laker, and he'll be chomping at the bit as he tries to erase the stigma of two straight subpar Playoffs runs. In the regular season, he's as good as they get at power forward, capable of scoring, rebounding, passing and defending with the best of them. At small forward, the Artest Formerly Known as Ron, a.k.a. Metta World Peace, doesn't drop 20-plus points like he used to, but he's perfectly content (as it seems) as a role-playing defensive specialist. One thing, though, he'll have to improve his shooting, whether it's field goals (39%), threes (30%) or free throws (62%) – those numbers have all been going south since he joined the Lakers.
The Lakers' bench is much deeper than it used to be, as the disappointing Troy Murphy will be replaced as reserve PF by Antawn Jamison, who's fresh off a 17.2 ppg campaign for Cleveland. Jamison, 36, is a short-term solution who should make the most of his bench minutes as a versatile scorer. 2011-12 midseason acquisition Jordan Hill is more than willing to do the dirty work on the boards and defense. Earl Clark is another player who can create defensive mismatches at small forward. And the Lakers have even more young, capable defensive players in SF Devin Ebanks and rookie center Robert Sacre. This reserve unit will definitely be better than last year's. (A)
BACKCOURT – The last time Kobe Bryant played with an elite point guard in the lineup was in 2003-04, when Gary Payton joined the Lakers for one season. With Steve Nash joining the Lakers this season, Bryant won't have the ball in his hands as often as he's used to, but he still has it in him to score at least 25 points a game, albeit with less assists. He's a cinch to break the 30,000 career points mark in 2012-13 and overtake Julius Erving and Moses Malone to become the fifth most prolific scorer in NBA history. Nash, who will be playing his 17th NBA season, is still one of the NBA's finest point guards and smartest decision-makers, may it be when passing the ball or taking a shot. As he seems to be comfortable as early as now with Mike Brown's system, we shouldn't see much of a drop-off in performance, if any.
Former 76er Jodie Meeks will step in as Bryant's reliever at shooting guard. He can be streaky and one-dimensional, but the Lakers (26th in 3P% in 2011-12) would definitely benefit from his outside touch. Steve Blake has yet to shoot over 40% as a Laker, but he's still the best they have as a backup point guard. Chris Duhon will provide veteran smarts and defense as a third-string floor leader. (A)
COACHING – Despite his previous success with the Cavs, Mike Brown didn't have a smooth first season as the Lakers' head coach. He clashed with a few of the team's top players as they struggled to wean themselves off Phil Jackson's triangle offense. It will be interesting to see how the Lakers adjust to the Princeton offense Brown may be pushing in 2012-13 as he tries once again to preside over a team with two more proven superstars joining the lineup.(C+)
DRAFT – You shouldn't expect much when you've got two of the last six draft picks. That said, Darius Johnson-Odom (55th) is your typical tweener guard – too small for SG with little to no point guard skills. Expect an L.A. D-Fenders stint in 2012-13. "Mr. Irrelevant" Robert Sacre (60th) will be most relevant when the Lakers need some intentional fouls to stop the clock when trailing close games.(C)
FREE AGENCY/TRADES – By acquiring Howard in that epic four-way trade in August, the Lakers immediately got themselves their best center since Shaquille O'Neal and arguably the best center in the current NBA, period. Nash will be 39 next February, but he's aged better than his contemporaries, the Knicks' Jason Kidd included. And Jamison will be the quality frontcourt reserve Troy Murphy seldom was last season, even if he's four years older. And we haven't even mentioned Meeks, Duhon and Clark, who all could play valuable roles off the bench. The Lakers made all the right moves in the off-season, simply put. (A+)
SUMMARY – We could be looking at a Western Conference, or even the 2012-13 NBA champion here, provided all the new parts fit in quickly. But the Lakers were in a similar situation before – Kobe, Shaq, Karl Malone and Gary Payton in 2003-04, and still no NBA championship. Chemistry will be key as the Lakers hope to return to the NBA Finals this season.
PROJECTION – 1st in Pacific
PHOENIX SUNS
2011-12 RECORD – 33-33
PROJECTED ROTATIONS:
1st String – Marcin Gortat (C), Luis Scola (PF), Michael Beasley (SF), Jared Dudley (SG), Goran Dragic (PG)
2nd String –Channing Frye (C), Markieff Morris (PF), Wesley Johnson (SF), Shannon Brown (SG), Kendall Marshall (PG)
3rd String –Jermaine O'Neal (C ), Luke Zeller (PF), P.J. Tucker (SF), Diante Garrett (SG), Sebastian Telfair (PG)
Coaching staff – Alvin Gentry (HC), Dan Majerle, Igor Kokoskov, Elston Turner, Ralph Sampson, Lindsey Hunter, Sean Rooks (A)
LAST YEAR'S LEADERS:
Scoring – Marcin Gortat (15.4)
Rebounding –Gortat (10.0)
Assists – Steve Nash (10.7)
Steals – Ronnie Price (0.9)
Blocks – Gortat (1.5)
Minutes – Gortat (32.0)
FRONTCOURT –Despite having a forgettable 2011-12 season with the Timberwolves, it's too early to write off Michael Beasley as another high-profile draft pick who failed to live up to expectations. He still has potential of being one of the NBA's scoring leaders in the near future. But his attitude in his first four NBA seasons held him back even more so than the series of minor injuries he's had in the past two years. Hopefully the change in scenery will help Beasley have a season as good as, or even better than 2010-11, where he averaged 19.2 ppg in just 32 minutes for the Wolves. His frontcourt partner will be Luis Scola, the ex-Rockets big man who's also coming off a down season (15.5 ppg, 6.5 rpg). His reduced rebounding numbers, however, may have been a result of the compressed season rather than the start of aging for the 32-year-old PF. Scola could be anywhere from second to fourth offensive option for the Suns in 2012-13. At center, Marcin Gortat won't be expected to lead the Suns in scoring again. He'll have to make some adjustments after benefiting big-time from playing alongside Steve Nash, but 2011-12 doesn't seem like a fluke of a breakout season from the Polish Hammer. He should still be churning out double-doubles for this revamped Suns lineup.
The second frontcourt unit is, for lack of a better term, interesting. Here we have an over-the-hill former All-Star at center (Jermaine O'Neal), a promising, yet still inconsistent sophomore PF (Markieff Morris) and an almost-certified lottery bust at SF (Wes Johnson). As a result of injuries, O'Neal played just 49 games combined for Boston these past two seasons, though his experience and shotblocking ability makes him an ideal elder statesman for the Suns. Morris has a developing inside-outside game which should help him improve on his subpar 40% field goal clip as a rookie. And Johnson, who followed up an unremarkable rookie year with a horrendous second-year campaign, is evidence that looking NBA-ready prior to draft day doesn't equate to immediate pro success. He's running out of chances fast, and won't get many of them if he comes off the bench. Channing Frye, who started last season at the four, will be missed for his outside shooting; he may be out for the 2012-13 season with an enlarged heart. (B-)
BACKCOURT –In his first stint with the Suns and the last year-and-a-half with the Rockets, Goran Dragic established himself as one of the NBA's top backup point guards and a very reliable player when called upon to start. This season, he'll have the starting job from day one and the responsibility of playmaking for one of the NBA's younger teams. There is, however, a small chance he won't be up to the task, which is why the Suns drafted Kendall Marshall in the first round of the 2012 Draft. Marshall is a pass-first point guard who averaged close to 10 assists per game for North Carolina in his second and last college season. He won't be the next Steve Nash, but he could be a quality NBA floor leader in time. Sebastian Telfair will return as the third option at point guard.
Jared Dudley and Shannon Brown will battle it out for the starting off-guard role, with Wes Johnson a possible dark horse candidate. Since his first complete season with the Suns, Dudley has improved on his game, contributing as an accurate outside shooter. He may never be more but a "solid but unspectacular" NBA player, though. Brown will once again get fans on their feet with his dunking and outside shooting, and he's an underrated defender as well.But even if he starts, he might not have a true breakout year – Gentry's player rotations can go twelve-deep at times.(C-)
COACHING –With Alvin Gentry, you can expect two things – a running style and as many as 10-12 players seeing quality minutes in a game. Unfortunately, the Sunsstill might not play much defense, as Gentry has never been known as a defensive coach. (C)
DRAFT – The Suns got lucky with the 13th pick, selecting Kendall Marshall as a possible point guard of the future. He won't take too many shots, but his court vision and passing skills are well ahead of the curve. He could have some problems, though, defending NBA point guards. (A-)
FREE AGENCY/TRADES –The acquisition of Scola via amnesty couldn't have been more timely, with Frye probably out the entire year. His scoring is a given, but he'll help the Suns the most as a rebounder and defender, two things Frye hasn't done particularly well. Beasley, of course, comes in with a chance to redeem himself and return to 20 ppg form. O'Neal adds veteran experience and Johnson will get yet another shot to prove his worthiness as the third overall pick in 2010. Overall, a good haul. (B+)
SUMMARY – The Suns failed to reach the Playoffs for two straight seasons now, with a third early vacation possibly forthcoming. With the last remaining links to their playoff days (Steve Nash and Grant Hill) in separate L.A. teams and a younger than usual lineup, this could be the start of a rebuilding process for this once-powerful franchise.
PROJECTION – 4th in Pacific
SACRAMENTO KINGS
2011-12 RECORD – 22-44
PROJECTED ROTATIONS:
1st String – DeMarcus Cousins (C), Thomas Robinson (PF), Tyreke Evans (SF), Marcus Thornton (SG), Isaiah Thomas (PG)
2nd String –Jason Thompson (C), Chuck Hayes (PF), James Johnson (SF), Jimmer Fredette (SG), Aaron Brooks (PG)
3rd String – Travis Outlaw (SF), Tyler Honeycutt (SF), Francisco Garcia (SG), John Salmons (SG)
Coaching staff – Keith Smart (HC), Jim Eyen, Alex English, Clifford Ray, Bobby Jackson (A)
LAST YEAR'S LEADERS:
Scoring – Marcus Thornton (18.7)
Rebounding –DeMarcus Cousins (11.0)
Assists –Tyreke Evans (4.5)
Steals – Cousins (1.5)
Blocks – Cousins (1.2)
Minutes – Thornton (34.9)
FRONTCOURT – Prior to January 5, 2012, there were questions whether DeMarcus Cousins would live up to his potential as one of the top big men in the 2010 Draft. Those questions mostly disappeared when Keith Smart took over as coach. Soon thereafter, he started collecting double-doubles and playing like the rising star he is. There are still some issues, though, with his maturity level and shot selection (45% from the field), but he's definitely improving in those particular areas. Unfortunately, he's the only sure frontcourt starter. The rest of the frontcourt rotation partly depends on whether Keith Smart will continue using Tyreke Evans as a small forward, which appears to be the case. The 2009-10 Rookie of the Year has regressed since his debut, as injuries and a lack of a defined role have taken their toll on his productivity. It's a pity, because at this juncture, he'd ideally be an All-Star candidate and the top guy on offense.
The other big question in the Kings' frontcourt is whether Thomas Robinson is ready to start at PF as a rookie. He was one of the more NBA-ready prospects going into the 2012 Draft; as such, he's got a chance of earning a starting job by midseason, if not right away. Jason Thompson could also remain as the starting four. He's capable of the occasional double-double, but his career has long hit a plateau.
As for the rest of the bench, Chuck Hayes will continue to bang underneath and defend bigger frontcourt men despite standing only 6'6" without shoes. James Johnson comes over from the Toronto Raptors; he opened some eyes with his explosive athleticism and defensive acumen, particularly last season, but he's too raw offensively to move on to the next level. Tyler Honeycutt and Travis Outlaw may not play much, what with the usual logjam at the wing positions. (C+)
BACKCOURT – Speaking of logjams at the wing, Sacramento still has more wings than the city of Buffalo. But the likely backcourt starters this season will be "pure" guards at their respective positions. Marcus Thornton proved his emergence from high-scoring sixth man to productive starter at off-guard was no fluke, as he led the Kings in scoring and minutes in 2011-12. Some may argue he's still best suited for a sixth man role, but he's still a better choice to start than Jimmer Fredette or John Salmons. Isaiah Thomas, who won the starting point guard role midway through last season, is way undersized and can easily be exploited on defense. But he's also very tough to guard, as one of the quickest point guards in the league and a very solid shooter (45% FG, 38% 3P). He was, without a doubt, one of the 2011 Draft's most pleasant surprises.
Francisco Garcia, a King since his rookie season of 2005-06, had his worst statistical season in 2011-12, and may be relegated to the third string. Ditto John Salmons, who somehow started 32 games despite playing the most apathetic basketball of his career. But Salmons could still play a second string role if Fredette continues to struggle. "The Jimmer" entered the NBA last season with an inordinate amount of hype, but shot his way out of several opportunities to gain more significant exposure. His height (6'2") remains a concern, considering he's a pure shooting guard at this point. 2009-10 Most Improved Player awardee Aaron Brooks is back following a one-season stint in China. He'll produce off the bench and serve as a good veteran mentor to Thomas.(C-)
COACHING – With Paul Westphal's tumultuous reign as Kings coach mercifully put to an end, Keith Smart took over midway and didn't take long to earn his players' respect. He'll continue to play the unenviable role of teaching a young and often immature team how to play defense, while making sure everyone is happy with their minutes and roles, an especially hard task with the Kings.(C)
DRAFT – The Kings addressed a weakness at power forward (which was handled last year by Thompson, Hayes and a then-underachieving J.J. Hickson) by drafting Robinson (4th), who has natural talent as a post scorer and rebounder, athleticism and a strong work ethic. Harrison Barnes was still on the board and could've given the Kings a true small forward (as opposed to converted guard Evans) who can start, but don't the Kings have more than enough wingmen already? (A-)
FREE AGENCY/TRADES –Johnson and Brooks are two sound additions to the bench, the former being an energy guy who hustles on "D" and the latter being a one-time Most Improved Player who can contribute as a scoring point guard. However, neither of them provides true veteran leadership, which the Kings sorely lack in the lineup. (B)
SUMMARY –The Kings still have a long way to go back to respectability. Though none of the projected starters are particularly weak in comparison to the rest of the NBA, none of them (except perhaps Cousins and Evans in time) can be considered truly elite. And there are the usual maturity issues that come with young teams. Looks like it's another year in the Pacific cellar for these one-time contenders.
PROJECTION – 5th in Pacific
Check out the NBA Northwest Division Preview for 2012-2013.