Dwight Howard to the Dallas Mavericks
By Dennis Berry
Where Will Dwight Howard Play?
Dwight Howard, the NBA's quintessential "man in the middle," finds himself at the center of basketball's biggest trade storms. So, where will Dwight Howard play next season?
There are five realistic destinations: Orlando, Los Angeles, Dallas, New Jersey, and Chicago. Howard demanded a trade from Orlando several months ago, citing lack of improvement and disconnects with his coach, Stan Van Gundy. Considering Van Gundy will be sticking around and roster improvement is very unlikely, Howard is not expected to remain in Cougartown. The Lakers are intriguing and could offer a package built around young franchise center Andrew Bynum and the Bulls could offer a similar deal around Joakim Noah.
But I think Otis Smith will stubbornly hold on to his star past the deadline. Orlando will be a top playoff seed around the trade deadline and it is very difficult to blow up a team built for a playoff run by trading its young star. Even if Howard states categorically that he will leave, Smith is likely to keep him and dare his franchise player to walk in free agency.
That leaves the New Jersey Nets and the Dallas Mavericks. Howard has voiced interest in playing in Brooklyn but the Nets look absolutely terrible this season. I can't see Dwight going to a lottery team in free agency; it would just not make sense given the winning teams he has been part of in Orlando. Even with Deron Williams in the fold (hardly guaranteed) New Jersey would not have enough to win a title.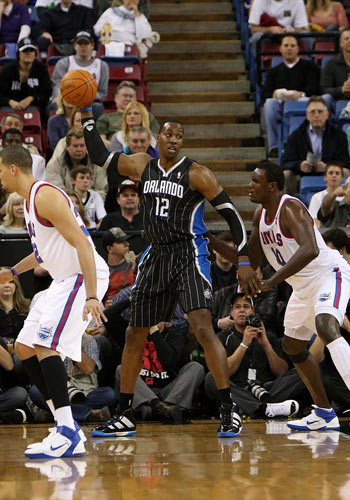 The Dallas Mavericks are Howard's most likely destination. It is no coincidence that they failed to extend Tyson Chandler. The Mavericks are hardly a cheap or foolish franchise and they recognized Chandler's important contributions. But they also know that they are the most compelling destination for Howard: he will get the chance to be the man while playing alongside one (Dirk Notwizki) or two (Dirk and Deron Williams) superstars, win in a warm weather city, and finish his career with a devoted, free spending owner. In the end, how will he be able to say no to that?
Here's an article about Dwight Howard to the NJ Nets.