Why Boston Should Keep Rajon Rondo?
By Dennis Berry
It's not like he has not dealt with this before. His name has been out there before on the trading block. Yet somehow he can block it out and go play great basketball.
Rajon Rondo had what may be the best individual performance in the NBA this past Sunday. With a national audience watching Rondo recorded the 17th triple-double of his NBA career in a Celtics 115-111 overtime win over the Knicks.
It just was not your normal triple-double.
Rondo had 17 points, 20 assists, and 17 rebounds. With that effort Rondo became just the third player in NBA history to accomplish that. The others were Magic Johnson and Wilt Chamberlain, maybe you have heard of them.
The performance comes a couple of days after ESPN reported that Boston was trying to trade their starting point guard. According to the report:
"The Celtics find Rondo's personality to be too high-maintenance and his clashes with coach Doc Rivers remain an off-court distraction."
It is not the first time Rondo has been shopped by the Celtics. In the preseason Boston was trying to trade Rondo to New Orleans for Chris Paul. It seems like the past couple of years the Celtics have listened to trade offers for Rondo.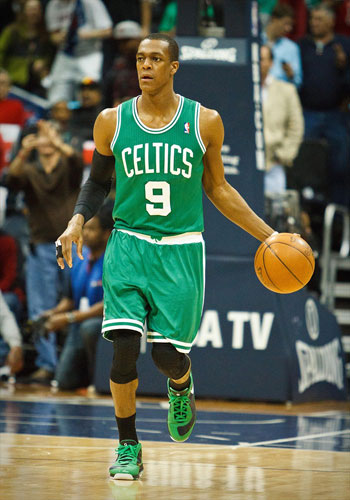 The question should be why? Why trade one of the best point guards in the NBA? It puzzling considering that Rondo is having one of his best seasons averaging 14.3 points and 10.2 assists a game.
Shouldn't Boston keep Rondo and build the team around him?
We all know that the Big 3 - Ray Allen, Kevin Garnett, and Paul Pierce - have been the center piece of Boston's recent success. We here at The Best Basketball Blog already discussed it was time to break up the Big 3. They are not getting any younger and after a 6-9 start, they are 19-17.
Even given their improved play, they still cannot be considered contenders in the East. They will not be able to get past both Miami and Chicago in the playoffs. Their window for a championship with that group has passed.
What has not passed is the basketball skill of Rondo. Every year he has been in the league he has gotten better. He can breakdown any defense with his quick first step. Once he beats his man, he has no problem finishing at the basket. He is also one of the best passers in the league, which means that his teammates always have a chance to score.
All Boston has to do is make the commitment to Rondo. Stop trying to trade him and instead find players to build around him.