Who Will Be The Next USA Men's Basketball Coach?
By Dennis Berry
After leading the United States to back-to-back gold medals, it appears that Mike Krzyzewski is done with being the USA men's senior team head coach. Coach Krzyzewski was named the USA Men's Coach in 2005. It was part of the overhaul of the USA basketball program after winning bronze in the 2004 Olympics.
During his time, the USA lost just one game in international play. That was a 101-95 defeat to Greece in the 2006 World Championships. After that the United States won the gold medal in the 2007 FIBA American Championship, 2008 Olympics, 2010 FIBA World Championship, and now the 2012 Olympics. Krzyzeweski went 62-1 as the USA Men's Senior Team Head Coach.
Krzyzewski has said that the 2012 Olympics would be his last. USA chairman Jerry Colangelo has said he will try to convince Coach K to come back for the 2016 Olympics. If Colangelo cannot convince him to return, then it will be time to find a new head coach.
Finding a replacement will be no easy task, though. Good thing there are plenty of good choices who can keep the United States' gold medal streak alive. Here is a small list of coaches who should be considered.
Former Head Coaches
A very unlikely way that USA Basketball could go would be with a coach who is not currently a head coach. Here are a couple of choices.
Nate McMillian – McMillian has been a part of the USA Basketball program since Krzyzewski took over as the head Ccach. He has 12 years experience coaching NBA players. He could pick up where Krzyzewski left off and keep the USA basketball program going like Coach K.
Mike D'Antoni – Sure his last gig in New York did not work out so well, but D'Antoni could still be a great Olympic coach. His offensive style is perfect for international competition. He has experience in international play both as a player and a coach.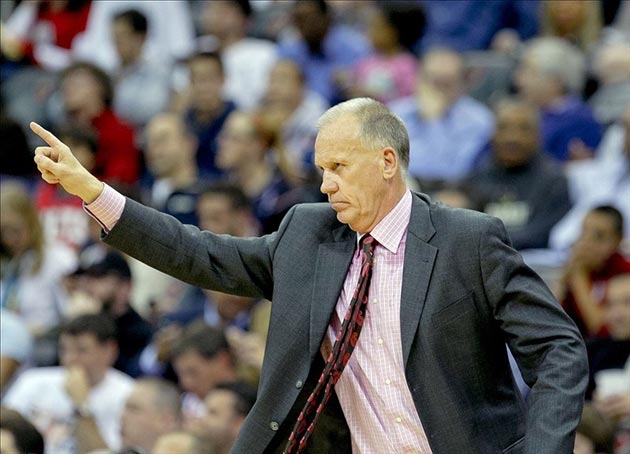 College Coaches
It seems unlikely that a college coach will replace Krzyzewski as USA Head Coach. If they do go that way, these coaches would probably be the best bet.
Rick Pitino, Louisville – He says he would like to coach in the Olympics before he retires and expressed interest in the position with Krzyzewski stepping down. Pitino is one of the most successful coaches in college basketball. He has won over 600 games in his career. He has taken three schools – Providence, Kentucky, and Louisville – to the Final Four. He has experience with a team full of talented players when he guided the 1996 Kentucky Wildcats to a 34-2 record and the National Championship.
Jim Boeheim, Syracuse – Another assistant under Krzyzewski at the 2012 Olympics, Boeheim is a Hall of Fame college coach. He has won 890 games in his college coaching career. Syracuse always seems to be loaded with talented players and in the running for the Big East – soon to be ACC – championship. The only question with Boeheim would be at age 67, how long he would coach Team USA.
John Calipari, Kentucky – This might be the most unpopular choice – outside – Kentucky on the list. The truth is, though, it would make a lot of sense for John Calipari to become USA's Head Coach. He is used to coaching talented players; since becoming Kentucky's head coach he always has number one recruiting classes. He is also used to getting talented players to play together. He is used to coaching a new team every year. We know he can win, leading Kentucky to the 2012 NCAA Title. Did you know that he had the Dominican Republic one game away from making the 2012 Olympic field?
NBA Coaches
The next USA Head Coach will most likely be a current NBA Head Coach. There are three candidates that appear to be front runners for the job.
Doug Collins, Philadelphia 76ers – He has plenty of experience coaching NBA level talent. He has coached four different NBA teams; Chicago Bulls, Detroit Pistons, Washington Wizards, and is the current head coach of the Philadelphia 76ers. Boston Celtics Head Coach Doc Rivers backed Collins for the position on television after the United States' gold medal win against Spain on Sunday. Collins was part of the 1972 Olympic team that lost to Russia in a controversial finish. He would no doubt love the chance to lead the USA to the gold medal as their new head coach.
Gregg Popovich, San Antonio Spurs – Popovich has won four NBA titles with San Antonio since taking over as head coach in 1996. He is well known for being able to keep a team focused on the next game in front of them and not look ahead. He knows how to keep egos in check and get a team to play together. He is one of the best motivators in the NBA today.
Doc Rivers, Boston Celtics – Rivers appears to be the leading candidate to replace Krzyzewski. He is also a great in-game coach at making adjustments and getting players to go hard all the time. He is used to managing All-Star talent in Boston with their "Big 3." Everything you hear is how much guys love to play for Rivers and that is a big plus for an Olympic coach. If guys are going to play for the USA, they better like their head coach.