What Should Joel Embiid Do?
When the 2014 NBA Draft takes place on June 26th, many people feel that Kansas big man Joel Embiid will be a top 5 selection, however, according to KU head coach Bill Self, Embiid is considering sticking around for another season.
In my article last week about Andrew Wiggins, which can be found here, I suggest that Andrew Wiggins should leave KU and go to the NBA because Kansas head coach Bill Self has no history of developing NBA stars. Wiggins ended up making the right decision as he entered the upcoming NBA draft.
However, I think the correct decision for Embiid is to do the opposite, and stay at Kansas. Embiid may have the most potential of anyone in the entire draft, and some people are even comparing him to a young, unpolished Hakeem Olajuwon. I'm not sure Embiid will become Hakeem, but I'm a strong believer of players staying in school in most circumstances, and I strongly believe that big men should stay in school for at least 3 seasons.
As I mentioned before, people are comparing Embiid to Hakeem, and if you take a look at Hakeem's college career, he drastically improved from his freshmen year to his junior year, and he was subsequently the first overall selection in the 1984 NBA Draft.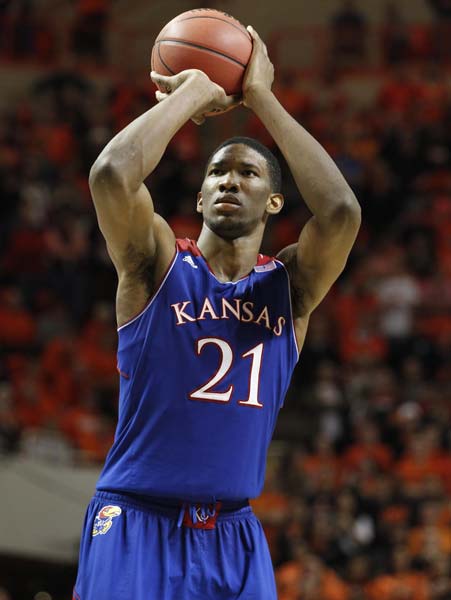 Embiid has the potential to make the same improvements that Hakeem made, especially if he sticks around because he will be the man at Kansas next season and beyond if he does.
Kansas coach Bill Self had this to say about Joel Embiid considering staying at Kansas -
"I think Joel is gathering information, but not information on where he'll be picked because he's going to go high," Self said. "The decision he needs to make is, what's best for him over time, whether to stay another year or to go."

"I could see him doing either one. I think you could make a case that either one would be a good decision. He's not quite like Andrew. He hasn't been playing ball his whole life. He's not ready to jump in either way right now. We've talked a lot, but I don't think he's close to making a decision in the next few or several days. I think it's something that will play out over a while."
Could Embiid make in impact in the NBA right away if he declared himself eligible for the 2014 NBA Draft? Sure, if he went to the right team. He could be a solid rim-protector right away. But his defensive game doesn't need much work, it's his offensive game that needs a bit of help.
If Embiid is able to polish his skills while staying at Kansas for another season or two, he could very well be the number one overall pick in a couple of years, and make an immediate impact in the league. I think he'll have a much harder time developing his skills if he heads to the NBA after just one season at Kansas.
Joel Embiid 2013-2014 NCAA Stats – 11.8 PPG, 8.2 RPG, 2.6 BPG.