VCU vs Butler Preview
By Dennis Berry
2011 Final Four Preview
11 Virginia Commonwealth University Rams vs. 8 Butler Bulldogs
This year the NCAA Tournament started with 68 teams. After two weeks we are down to the Final Four. This year the tournament was as unpredictable as it has ever been and the last four teams that made it to Houston prove it.
For the first time ever in the NCAA Tournament, not a single team that was its regions' one or two seed advanced to the final weekend. What we are left with is a 3,4,8, and 11 seed in the Final Four. What's more, the title game will feature either the 8 seeded Butler Bulldogs or 11 Virginia Commonwealth University Rams.
So let's take a closer look at this match up and see what we can expect come Saturday evening.
VCU (28-11, 12-6) was not supposed to be here. There are some who thought the Rams were not even supposed to be in the field of 68 teams. They finished fourth in the Colonial Athletic Association standings. They got in despite losing in the CAA Tournament Finals. They were a part of the first round games, this year basically a play-in game to get to the round of 64. They have already played five games in this tournament while the other three Final Four teams have only played four.
Head coach Shaka Smart has done everything right in this tournament. Playing the underdog role and getting his team to believe that no one thought they would make it this far. Well that's probably because nobody did. This is a run that no one could have seen coming.
The key to VCU's run has been three-point shooting. The Rams came into the NCAA Tournament with their season high of three point shots made in a game being 11. They have hit 12 three point shots in three of five NCAA games. They are hitting 43% of their three point shots in the tournament. They only hit 37% of their three point shots before this run.
So how do you stop the Rams? Looking at their stats one thing is that they average almost 16 assists a game when they win, but only 12 assists in losses. This shows that this is a team that likes to pass the ball. So a defense needs to take away the Rams' ability to pass the ball. Take away passing lanes, but also not allow them to drive the lane and pass the ball to an open shooter. This can be shown in the Rams' field goal percentage in wins and losses. When they win, they shoot 44% from the field. When the Rams have lost they only shot 40% from the field and 31% from three.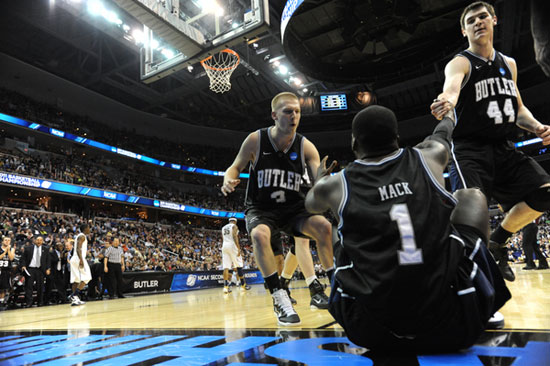 For the Rams to get this far is amazing; although, we have seen 11 seeds get here before. LSU made it in 1986 and George Mason in 2006. From the sound of it Coach Smart is not simply happy making the Final Four.
"Ever seen the movie, Major League? I can't say exactly what the guy says, but they get in some situations, and there's only one thing left to do, win the whole blank thing. And that's all there is left to do," Smart said after his team beat Kansas in the Elite Eight in San Antonio. "You get to the Final Four, it comes down to four teams, you and three other teams. You get two teams, if you're fortunate to win the first one -- we're not going to lose any belief."
For the Butler Bulldogs (27-9, 13-5), they are making their second straight trip to the Final Four and this run may be more surprising then last year's run. On February 3 the Bulldogs were on a three game losing streak and losers of four of their last five games. They were 14-9 overall and 6-5 in the Horizon League. Most had written off last year's National Runner-up from making the NCAA Tournament this year.
That seems like forever ago. The Bulldogs have won 13 straight games since losing at Youngstown State 62-60. The Bulldogs had to win the Horizon League Tournament to make the NCAA Tournament, as an at-large bid would probably not be there for them. They would win the Horizon league and get the automatic bid.
"Our guys, after they started that win streak, I think we had won maybe seven in a row or whatever going into the conference tournament. I thought they had started to really build off of what was some tough times, you know, there in late January, early February," said Head Coach Brad Stevens during a NCAA Men's Final Four Media Conference Call on Monday.
Now they are headed back to Houston behind the play of junior Shelvin Mack and senior Matt Howard. The duo lead the team in scoring over the course of the season. Howard averaged 16.7 and Mack 15.9. They have also carried the team to the Final Four once again. It has been Mack who has raised his game, averaging 21.5 points a game during NCAA, while Howard has added 16 ppg.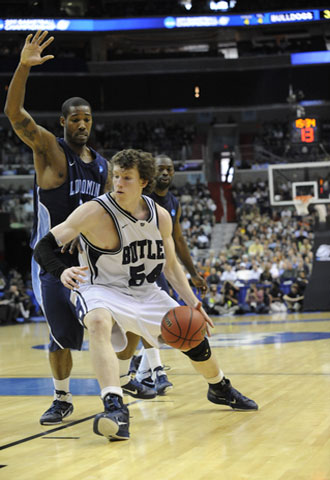 They also had big shots when the Bulldogs needed them. Howard hit the game winner against Old Dominion in the second round with only a second left in the game. In their upset of 1 seed Pittsburgh, it was Howard who hit the game winning free throw with only a second left. In the Elite Eight win over Florida, it was Mack 's 30 points and key free throws that would help lift the Bulldogs back to the Final Four.
So how do you stop the Bulldogs? You have to find a way to stop that duo. The supporting cast has done little and no other player has stepped up on offense. So you can keep Howard and Mack below their average, you can beat Butler.
So looking at the match up between Rams and Bulldogs, who has an advantage? Well The experience factor is with Butler. They have been through this before and know how to handle all this. For VCU, they were able to get through the first couple of rounds, but Final Four week will be the biggest test for them. Can they handle the media and distractions and focus on their next game, which they have done a good job so far?
In terms of on the court match-up, you have to believe VCU has an edge. They have more scorers and are a more athletic team. The duo of Mack and Howard seem to be on a mission to prove that last year's NCAA title run was no fluke.
This should be a great match up and one that fans should not overlook just because it is an 8 seed versus 11 seed.