UK vs UCONN Preview
By Dennis Berry
2011 Final Four Preview
4 University of Kentucky Wildcats vs. University of Connecticut Huskies
The second game on Saturday night is a rematch of the 2010 Maui Invitational Championship game played in November. That was a game that Connecticut won easily over Kentucky. The Huskies built a 50-29 halftime lead and went on to win 84-67.
Of course that was just the fifth game that this team had played together. The players were still learning how to play in John Calipari's offense and work together as a team. The 17 point loss to Connecticut was Kentucky's largest loss and their only double digit loss this season.
Since that game both teams have had to deal with the ups and downs of conference games. Kentucky went 2-6 on the road during SEC games, their largest margin of defeat being seven points. Connecticut went 9-9 in Big East play, finishing ninth in the conference standings.
Both teams have turned it on down the stretch. Kentucky is on a 10 game win streak and Connecticut is on a nine game win streak.
So let's take a look at how each team coming into this Final Four match up.
Most did not think Kentucky would be here. This was not a team that was supposed to make a Final Four run. Last year's Wildcats were suppose to be in the Final Four. This version of the Wildcats had lower expectations and were seen by many as a Sweet 16 team at best.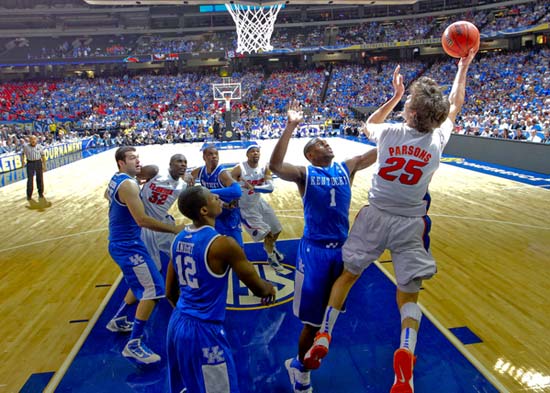 After their struggles on the road in the SEC, some wondered if the Wildcats could even make it that far. But looking back, their road losses were not that bad. They lost at Georgia, Florida, and Vanderbilt, which are all NCAA teams. They also lost at Alabama and Mississippi, both NIT teams and Alabama has made it to the NIT Championship teams.
They only bad loss on the road would be an overtime loss to Arkansas. It was that loss that Coach Calipari credits to turning this team around.
"I think after that Arkansas game, they had a players-only meeting. Normally those meetings don't do anything. But I think they wanted to understand each other. The veterans talked about committing to what they had to do. The young kids committed to what they had to do. I think they just came together," Calipari said during a Final Four media conference.
So what does Kentucky bring into this match up? They are one of the best shooting teams in the country. They shoot from 46% from the field and 40% from the three point line. This team likes to share the ball as they average 13 assists per game and only average 11 turnovers a game.
This Kentucky team also plays tough defense. Teams are shooting only 39% from the field and 33% from the three point line. Kentucky is also third in the country in blocked shots averaging 6.4 a game.
The rise of Kentucky down the stretch has been the play of DeAndre Liggins, Darius Miller, and Josh Harrellson. Kentucky was getting great play from freshmen Brandon Knight, Doron Lamb, and Terrence Jones, but the play of the upper classmen have been a reason this Kentucky team is headed to Houston.
One thing that hurts Kentucky is that it really only plays six players. They are able to get spot minutes from players like Eloy Vargas and Jon Hood when needed. If Kentucky was to lose one of their main six players, will they be able to survive?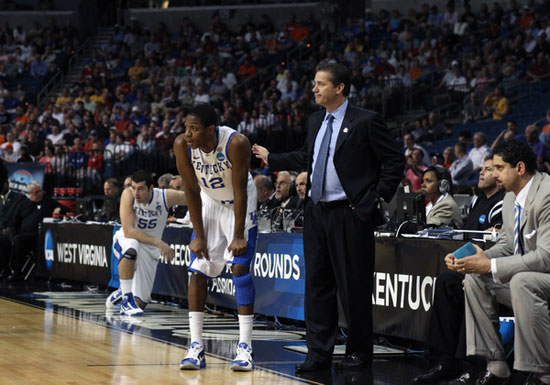 For Connecticut, the season started with them being unranked. Coming off a season in which they went 18-16 and lost in the second round of the NIT Tournament, expectations for Connecticut were low. Coming off the end of NCAA probe for recruiting violations, there were plenty of question marks surrounding this team at the start of the year.
Those questions were soon answered at the start of the season. Connecticut won the 2010 Maui Invitational Tournament. They beat Wichita State, which is playing in the NIT Championship, then #2 ranked Michigan State and then Kentucky. They started the season 10-0 and that was in large part to the play of junior Kemba Walker, who was an early favorite to be National Play of the Year with his play.
They struggled through Big East play though. They only went 9-9 in the conference, all nine of their losses coming to NCAA Tournament teams. They lost twice to Louisville. Then came the Big East Tournament. This was the first year that all 16 Big East teams would play in the conference tournament. They would become the first team to win the Big East Tournament by playing five games in five days. Kemba Walker was named the Big East Tournament MVP.
So the key to Connecticut is pretty easy...it's Kemba Walker. He has elevated his play in the NCAA Tournament. He is averaging 27 points a game and shooting 44% from the field. This run has not only been fueled by Walker though. Freshman Jeremy Lamb has upped his play in the tournament too. He has increased his scoring average from 11 points a game during the season to 18 points a game and is shooting 64% from the field and 74% from three.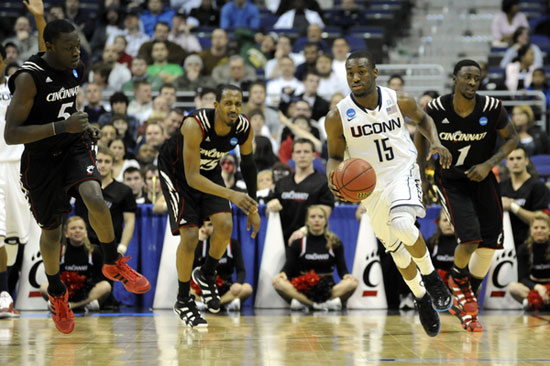 While those two have upped their game, their team has not. The next scorer average-wise is Roscoe Smith at 7 points a game. They will need Smith, Alex Oriakhi, or Shabazz Napier to step up and help score against Kentucky. Oriakhi had a great game against Kentucky in Maui, scoring 18 points and adding 11 rebounds.
So when these teams take the court on Saturday night, the match up to watch will be Connecticut's offense against Kentucky's defense. In Maui the Huskies shot 57% from the field and 58% from three.
Will the Wildcats be able to shut down Walker and Lamb? If Kentucky can force the ball out of their hands and force Connecticut's role players to try and beat them, they can. Kentucky's defense has improved a lot since the last time these teams have played. They were able to shut down Ohio State's perimeter game and will need to do the same against the Huskies.
For Connecticut, they will have to try and shut down Kentucky's guard play. In Maui Knight, Lamb, and Liggins only scored a total of 19 of the Wildcats 67 points. Knight was the most rattled against Walker. He scored only six points and had five turnovers. Knight is the key to the Wildcat's offense; if he struggles, Kentucky's offense usually does the same.
This game is a match up of two big time college basketball teams. With an added bonus of John Calipari versus Jim Calhoun. This will be a great night cap on Saturday night.