The NBA's Biggest Surprise of 2012-2013: Omer Asik for Most Improved Player
By Lorenzo Tanos
To be honest, he wasn't someone I had pegged for much success in 2012-13. Sure, he deserved more playing time than what he got as Joakim Noah's backup with the Chicago Bulls, but I wasn't expecting a double-double machine who'd turn the Houston Rockets' young frontcourt men into end-of-the-bench fixtures. At this point in the NBA season, it's clearer than day – Omer Asik is one of the top candidates, if not the top candidate for Most Improved Player honors for 2012-13.
Let's take a look at the numbers – as of January 1, 2013, those would be 10.4 ppg, 11.8 rpg, 1.0 apg, 1.1 bpg and 52% from the field. Those are the numbers a certain New Jersey Nets power forward once married to a reality TV star should be posting by now. But K-Humph references aside, Asik is delivering far beyond what the gaudy "fantasy monster" numbers suggest. For example, that meager 1.0 apg masks the fact that he's a very skillful outlet passer. No, he's not the best in that department, but he's very capable. And the 1.1 bpg isn't indicative of what he can do on defense, which is a lot. (He's actually a rarity on a team that's giving up a league-"leading" 103.8 ppg on 46.1% shooting.)
Time will tell whether Asik's 2012-13 will be a fluke, but for now, he's holding his own extremely well against the top centers of the NBA. In fact, one can argue he's even outplaying the man whom he had once backed up on the Bulls. Then again, maybe not – Noah is having a career season (12.8 ppg, 10.3 rpg, 4.4 apg, 2.1 bpg), so if Asik had hypothetically stayed with the Bulls in 2012-13, he'd still be the backup.
But it's a good thing he isn't anymore. Let's take a look at last season, for example. The big (7'0"-255) Turk was barely asked to have much of a say on offense, and was pretty much used as the Bulls' latest version of Dave Corzine, Bill Wennington, Aaron Gray, etc. – a hulking backup center with little value on the offensive end. He wasn't the guy you wanted starting as long as Noah, Carlos Boozer or even Taj Gibson was healthy. Still, he was showing signs of being a monster rebounder (13.0 per 36 minutes) and thanks to Bulls coach Tom Thibodeau, he was growing on defense.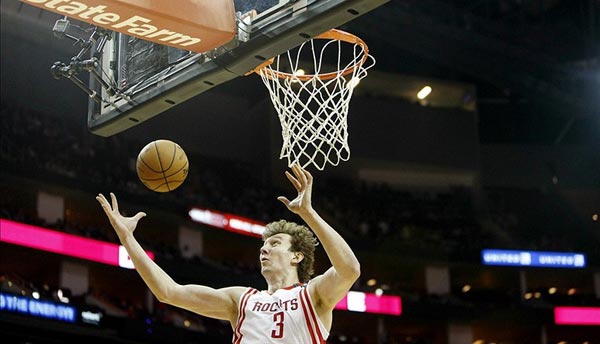 As I've said a couple times before, the Rockets are proving to be the biggest surprise of 2012-13 as a team. They're playing exciting basketball, if a bit lacking overall on defense, winning more than 50% of their games and really thriving thanks to the backcourt of James Harden and Jeremy Lin. But when it comes to inside play as a rebounder, defender and capable 4th/5th offensive option, Omer Asik is the man for the job and, like Lin and Harden, a brilliant acquisition by Rockets management. As early as now, he's got my vote for Most Improved Player.