The Most Overrated Players in the 2013 NBA Playoffs
By Lamar Hull
The NBA Playoffs is a time where the stars shine brightest. However, this is also where some of the top-rated players become shells of themselves. This can be attributed to a lot of things, from nursing injuries sustained through the grueling regular season to players shrinking in the limelight. It's something that we see every year. This one is no different.
There are a number of players who simply aren't getting it done. That's expected of some players, specifically ones that come off of the bench or are merely role players. However, we expect the marquee players to be able to consistently perform. This is a list of those otherwise top-flight players who are fizzling out when their teams need them the most. This list may be a bit controversial.
Brandon Jennings
Brandon Jennings is a bit of an anomaly in a few different ways. He can be completely frustrating when he chucks up shots. He can also shoot lights out when he's feeling it. The same can be said about many streaky shooters, but what Brandon Jennings has done thus far in the playoffs has been dreadful.
To his defense, you don't really expect the point to put up numbers in bunches. However, you also don't expect point guards to do a whole lot of shooting. Their main job is to facilitate. Brandon Jennings hasn't been great in either regard. In two games against the Heat thus far, Brandon has shot just 31 percent from the field.
This figure is actually bolstered from game one where he shot a pedestrian 40 percent. In game two, Brandon shot 20 percent on 15 shots. His assist totals for that game were better, as he posted five. That's better than the two he posted in game one.
This includes nil from beyond the arc. He attempted seven three pointers. This wouldn't be nearly as bad if he didn't claim that the Bucks would take out the Heat in just six games.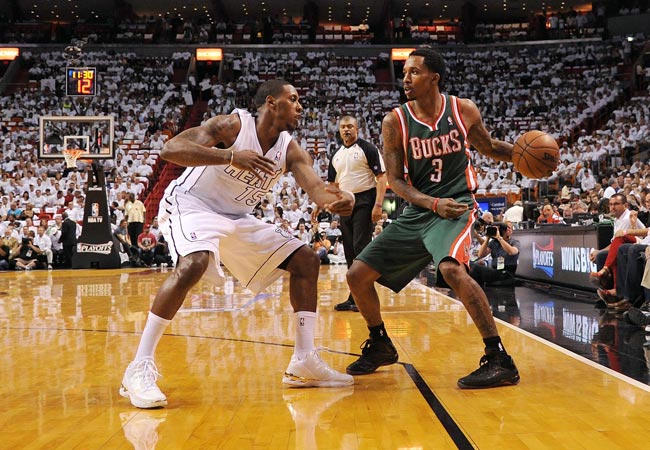 Wilson Chandler
Wilson Chandler is a pretty decent player. In the regular season, he shot just over 46% from the field and was good for a few rebounds. Always a pretty decent defensive presence, it's a shame that he's fallen off a bit in the post-season. He's still pretty decent on the defensive end. Wilson has continued to block shots and rebound like a madman. Unfortunately, he has also been pretty bad from the field. In game one, he shot 5-16. In the second game, he shot 4-15. These are dramatically lower than his numbers in the regular season, where he shot for a respectable 46 percent.
Paul Pierce
Paul "The Truth" Pierce actually hasn't had a terrible post-season. It's been decent, but he hasn't been playing to the level that we're accustomed to. The reason why can be explained away in a variety of means - they're getting older, they're playing in New York, and they have to deal with a hot Knicks team.
While all of these things may be the case, Pierce's numbers haven't been stellar. His FG percentage has been so-so. He shot 40 percent in game one and 42 percent in game two. While that's not too bad, his turnover numbers are. He turned the ball over 6 times in the first. Not to be outdone, he turned the ball over an additional five times the next game.
He's also knocked in two three pointers in 12 attempts.
Jeremy Lin
Jeremy Lin had a pretty decent regular season. Not many people expected him to sustain his stellar play in the stretch of last season, but he has proven to be a pretty competent point in Houston. His play in the postseason has been regrettable. Of course, he had play head to head with Westbrook, you'd expect him to fair a bit better than his 1-7 shooting in game one. The same could be said about his 3-7 in game two. While that in and of itself isn't terrible, he hasn't been making plays for his teammates.
He's also been getting turned over, which was actually even something that troubled him last season. In actuality, Houston's offense has flowed better when he's on the bench, save for a few games.
In all fairness, this spot on the list could have been reserved for someone else had he not gone out in game two.
It's still extremely early in the playoffs, so they may be able to turn their performances around. Unfortunately for these guys, there may not be that much time left.
Bio: Lamar Hull is a former NCAA college basketball player who also played on the European professional circuit. He now writes for Direct2tv. He poses a huge interest in some of basketball's greatest players; especially the ones who helped shaped his game. Lamar is also a blogger for his youth basketball sport's blog at Inspirational Basketball.