Team USA Will Need Anthony Davis at the Olympics
By Dennis Berry
At some point in the 2012 Summer Olympics, Head Coach Mike Krzyzewski is going to look down his bench for help. There are plenty of NBA All-Stars he can choose from on this team. None of them will be the solution to his problem.
Team USA will be getting killed in the paint. Tyson Chandler, the team's only true center, will be in foul trouble. They will have problems with opponents getting offensive rebounds. They will attack the basket with repeated success.
That is when Coach K will have to go to the end of his bench and call on Anthony Davis to help Team USA.
Davis has played only sparingly in the four exhibition games that Team USA has played so far this year. Well, he has only played in two of the four games so far. From what we have seen from him so far, he could help out a lot more.
Look at Davis' stats from the first four exhibition games. He has played 23 minutes in two games. He has scored a total of 20 points, shooting 73% from the field, and has four blocked shots. Not bad stats for a guy who is averagine 11.5 minutes in two games.
Of course this is nothing new for college players playing with NBA stars in the Olympics. This is the third time that a college player has been on the USA roster for the Olympics. Christian Laettner was a part of the Dream Team that won gold at the 1992 Summer Olympics. The second time was when Emeka Okafur was part of Team USA that won the bronze medal.
Both Leattner and Okafur also spent plenty of time on the bench as part of those teams. Laettner did get to see the court more than Okafur only because most of the games involving the Dream Team were blowouts. The 2004 team was not able to dominate the Olympics like the 1992 squad.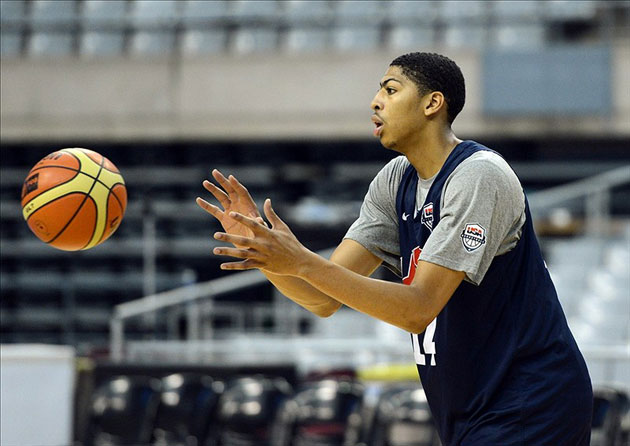 The way Davis has played in two exhibition games should lead to him getting more playing time. The United State's lack of big men should also help Davis' cause. Team USA only has Tyson Chandler and Kevin Love as true post players. They are missing Dwight Howard, Chris Bosh, and Blake Griffin because of injuries. It was because of Griffin's injury in practice that led to Davis being on the team.
As we have seen so far, Coach K has been reluctant to give Davis any major playing time. When Chandler takes a break, Coach K has gone to a smaller lineup. That lineup features Kevin Love at center, with LeBron James or Carmelo Anthony at power forward.
That is one of the great luxuries of being the United States National Team coach; you have plenty of talent to choose from.
At some point during the Olympics, that smaller lineup will not get the job done. Team USA will have to have help on defense and rebounding. They will have to have a true center in the game.
Who knows when it will come? It might happen against Brazil. It could happen against Spain, who USA will play in the final exhibition game before the Olympics. It could happen early in play or in the tournament.
At some point, Anthony Davis will have to play a major role in a game. When he does, the world will get a glimpse at a player who was the National Player of the Year and that lead Kentucky to a national championship.