Sorry Rajon You Deserve it: Boston Celtics Point Guard Earns Two Game Suspension
By Lorenzo Tanos
Like thousands of other fantasy basketball players around the world, I have Rajon Rondo in my lineup. Not just one lineup but two, actually – thanks to him, I can afford not to have a second assist-producing point guard in one of my teams. And though I have been preconditioned to root against the Celtics due to my being a nearly lifelong Lakers fan, Rondo is definitely a player whom I enjoy watching. These days, nobody finds an open man better than he does, and we shouldn't forget either about his ability to shut the other man down.
As you've probably read, Rondo will not be playing the Celtics' next two games. Among the players involved in the Celtics vs Nets fisticuffs from a couple days back, he is the only one who will be serving a suspension. Rondo will not be able to break Magic Johnson's 46-game streak for games with 10 assists or more, at least not yet – he's back to zero as he had dished out only three assists before being ejected. Fantasy owners like myself are in a quandary, wondering how they can win the assists category without Rondo for two games.
Unfortunately, Rondo deserved the suspension. Loyalty, as pointed out by Yahoo! Sports' Adrian Wojnarowski, is not an excuse for sticking up for Kevin Garnett and giving Kris Humphries a taste of his own medicine. Rondo should know better than to put everything on the line – his streak and the Celtics having one of the NBA's top point guards in the lineup, primarily – just to stick up for his "big brother" on the C's lineup. He could've done so in different ways, but instead, he chose to physically attack Humphries and let his temper get the better of him.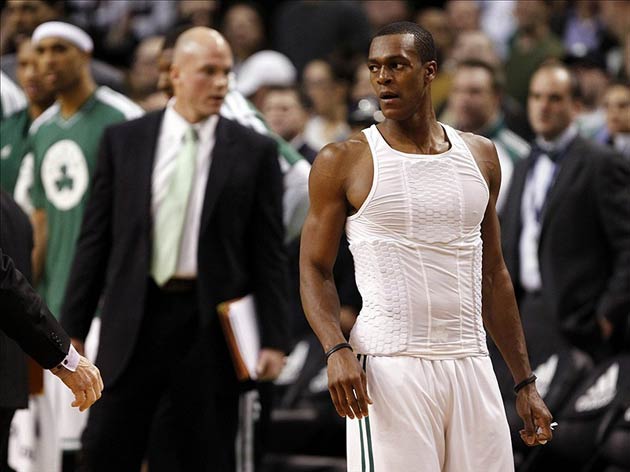 Then again, why no suspension for Humphries? Sure, he was fined for his actions, but that, considering the fact that he started the whole fracas, is tantamount to a slap on the wrist. The former Mr. Kim Kardashian had committed a very unsportsmanlike foul against Garnett, sending him down to the floor while he was taking a shot. And for that, all he gets a fine. Why not give him a one-game suspension, at least? He had instigated things and done so quite spectacularly, for lack of a better term. But what's done is done, and if you consider all that had happened on Wednesday, Rondo still deserves the longer suspension for once again letting his emotions take over at the worst possible time. At a time when the Celtics need as much help as they can get, because an 8-7 start is certainly disappointing for such a powerful team.
So there you have it – with Rondo suspended, Leandro Barbosa will be the most likely starter at the point. The Celtics will be relying on a player who isn't a natural point guard for the next two games, and all of this wouldn't have happened had Rondo exercised some restraint.