Oklahoma City Thunder Doing OK After Harden Trade
By Dennis Berry
Right before the start of the season the Oklahoma City Thunder made a surprising trade. They sent James Harden to Houston. In return they got Kevin Martin and some draft picks.
After trading away Harden, many believed that the Thunder's chances for a NBA title were done. They had lost a critical piece to a team that was in the NBA Finals last season. Some questioned if they traded the wrong player – perhaps they should have traded point guard Russell Westbrook.
Well perhaps those who were ready to bury the Thunder should take another look. They are not quite dead yet.
Heading into Wednesday night's game against the Rockets – and Harden – the Thunder were sitting at 11-4 and a top the Northwest Division. They have the second most wins in NBA behind only San Antonio (12).
The Thunder are still playing great basketball. Many believed that the Thunder's offense would drop without Harden coming off the bench. Actually right now the Thunder look better without Harden.
Through 15 games, the Thunder are averaging 104.4 points a game this season. Last year they averaged 103 points in 66 games. In fact, so far this season almost all of their offensive stats are better.
They are shooting 47% from the floor, which is the same as last season. This year though they are hitting 42% of the three point shots, up from the 36% they shot last year. They are getting to the free throw line more and shooting better there.
This improved offense comes with Kevin Durant scoring less than he did last season. In 2011-12 he averaged 28 points a game. So far this season he is averaging only 25.9 points a game. His three point shooting is up to 44% this season. His rebounding is up and his assists are up as well.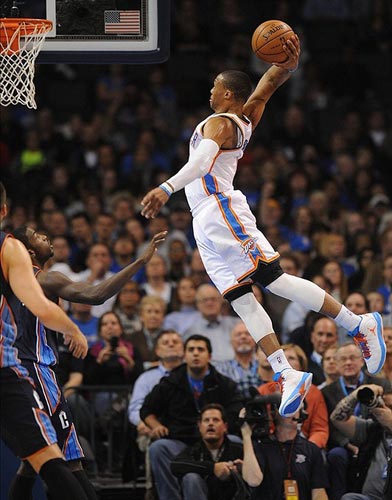 Is Russell Westbrook picking up his scoring? Actually his scoring is down to 21.1 points a game – 23.6 ppg last season. Here is something that may surprise you, his assists per game average is up to 8.6 assists per game. If Westbrook is able to find that medium of scoring and setting up his teammates, the rest of the league should be scared.
So who has replaced Harden?
Kevin Martin has been a great off-the-bench for the Thunder. Martin is averaging 15.7 points and shooting 46 percent off the bench. Martin has adjusted to his new role in Oklahoma City and gives them a proven scorer off the bench.
Another key to Oklahoma City's great start is Serge Ibaka. His scoring is up to 14.5 points a game this year – only 9 points a game last year. His rebounding could improve – only 7.6 per game so far this year. He is still a force on the defensive end where he averages almost 3 blocks a game.
The concern that the Thunder offense would struggle without Harden appear to have no merit. The Thunder look fine on offense. With Harden no longer dominating the ball off the bench, it allows Eric Maynor to take over. Maynor is a pass first point guard that allows the ball to move more when he replaced Westbrook.
The Thunder are only going to get better. Many that wanted to dismiss them are going to have to realize that the Thunder are not going anywhere anytime soon.