NOVA Men's Basketball JUCO won the Virgina State Tournament
By Coach Mike (Annandale, VA)
NOVA men's basketball wins first state championship.
CHESAPEAKE, VA (March 6, 2011) – Northern Virginia Community College defeated Thomas Nelson 78-71 on Sunday afternoon to capture the 2011 Virginia Community College System men's basketball championship at Oscar Smith High School in Chesapeake, Virginia.
Trailing 17-4 in the opening minutes, NOVA rallied to secure the College's first ever VCCS Championship. TNCC led 42-41 at halftime.
"We certainly made it a dramatic finish," said fifth year head coach Mike Fitzmaurice. "However, I am proud of the way we responded with our backs to the wall. We didn't overreact and kept our composure. It was a total team effort."
NOVA closed out the season with 22 consecutive victories and completed the VCCS regular season schedule with a 10-0 record.
"The thing I am most proud of is this team never felt the pressure of the winning streak," said Fitzmaurice. "Emotion can be your worst enemy or your best friend. Fortunately, it was our friend this year. We played the entire season with an every possession matters mentality and it paid off."
Tomas Camera led five scorers in double figures with 17 points. Westley Ford added 14 points, and Rich Waldron netted 12 points. Bobby Mott and Jonathan Ball each contributed 10 points.
TNCC was paced by Melvine Horne's 15 points.
Waldron (Edison High School/Alexandria, VA) was selected as the VCCS Tournament's Most Valuable Player. Camera (T.C. Williams High School/Alexandria, VA) and Ford (Paul VI Catholic High
School/Arlington, VA) were named to the All Tournament Team.
The NOVA women's basketball team lost to tournament host Tidewater Community College 57-47 in the championship game.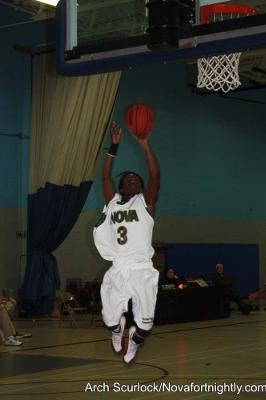 TNCC (71) -
DaVonte Jackson, 3
Sean Johnson, 14
Melvine Horne, 15
Darnell Berry, 6
Tyrone Berry, 14
Dana Jackson, 12
Danta Cooper, 7
NOVA (78) –
Gavin Peterson, 7
Westley Ford, 14
Bobby Mott, 10
Jonathan Ball, 10
Dominque Goodwin, 4
Tomas Camera, 17
Richard Waldron, 12
Jonathan Gaston, 5
HALFTIME: TNCC 42; NOVA 41
RECORDS: NOVA 26-5 (13-0 VCCS); TNCC 11-6 VCCS