No News is Bad News in NBA Lockout
By Dennis Berry
ESPN Struggling with NBA News
It's crazy to think how much cell phones have changed over the past few years. They have gone from something we just talk on to a portable computer. We can talk, text, email, take photos, and access the internet anywhere.
I happen to have an iPhone and I love it. My wife would tell you I love it too much. One of my favorite apps on there is the ESPN app ScoreCenter. I love being able to get news on my favorite teams sent to my phone and check scores no matter where I am.
As one would expect the news that is NBA related is little slow during the lockout. There has been no NBA Summer league, free agency, or trades made. Other than NBA players signing to play overseas or what some stars have done in some exhibition games, there is not that much.
Within the last week, I received two "ScoreCenter" alerts on my phone in the past week that suggests that ESPN is really struggling with news for the NBA. Both alerts centered on LeBron James. One dealt with a picture on his Facebook page. The other was a tweet sent regarding Cam Newton's NFL debut.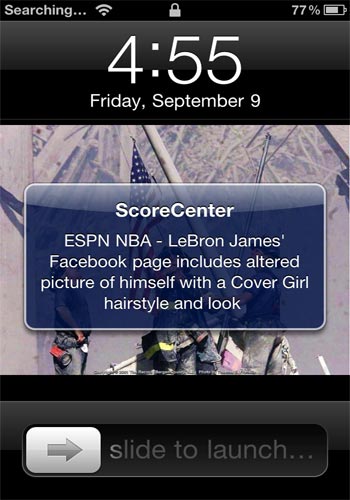 Is this what ESPN thinks is newsworthy?
The photo shows what James would be like as model. It is a take of a Cover Girl ad. The one thing they forgot to do is lose the mustache. If ads can air brush the defects off of models, the least James could have done is gotten rid of the mustache.
The tweet was actually a positive thing. James was congratulating Cam Newton on his successful NLF Debut. Newton passed for a NFL rookie record 422 yards.  There was a lot of negative talk about Newton coming into the season and that is something James can relate to. James has been the target of criticism since leaving Cleveland and joining the Miami Heat last summer.
There is nothing wrong with either of those for James. The problem is ESPN sending me an alert on my phone letting me know about them. I really don't think either was important enough to be considered newsworthy.
So what would be newsworthy regarding LeBron James?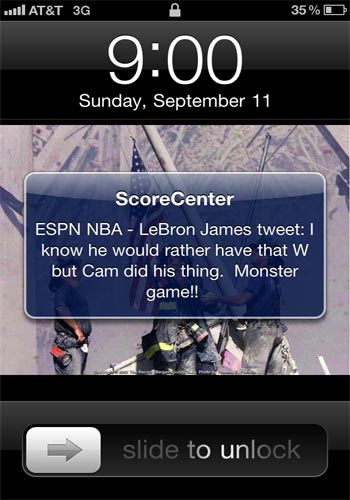 What I want to hear about regarding James is how he is working harder to become a better player. How his forgettable performance in the NBA Finals last season has driven him to become a better player. How James is tired of all the people dogging him for not being able to win a title and wants to prove them wrong.
Tell me that James is working on his jumper. How he developing a low post game that he plans to use next season to make him even harder to guard. Show me that LeBron is working on becoming a better free throw shooter to make teams pay for fouling him.
If ESPN thinks that people find what LeBron does or says in his personal time a newsworthy thing, then they need to reevaluate what business they are in. Of course many would say that ESPN is more about entertainment than reporting sports.
These two alerts back them up.
Here's an article about Understanding the NBA's Lockout Terms.