NBA Draft Rewind: Looking Back to the 1980 Draft
By Lorenzo Tanos
As an NBA history buff since childhood, I might as well get the ball rolling with this first historical article. You'll probably see two or three articles of this kind per week, especially now that we're in the off-season. To start things off, we'll be going back 32 years in time to the 1980 NBA Draft, but before that, I'd like to get a couple more things out of the way.
Why the Draft when it's a good month and a half since the most recent one? Well, what can I say, I've always been particularly interested in professional sports drafts. Without the Draft, the rich would only get richer while the poor would get so poor to the point that disbanding would be the best option. Besides, it's too late to give out my report cards for the current Draft. And why 1980 when there have been sixty-some Drafts in NBA history? Having been born in the late '70s, I'd say 1980 is the first Draft where I know I've seen most of the first-rounders in action. That being said, I'm not discounting the possibility of eventually discussing NBA Drafts from the '60s, '70s or even the '50s.
Anyway, I've said enough, so let's get down to business. For a comprehensive listing of every player drafted in 1980, it's all in here.
http://www.basketball-reference.com/draft/NBA_1980.html
THE TOP PICK – Joe Barry Carroll (GSW, C, 7'0-225) – Purdue seven-footer Joe Barry Carroll was a dominant center for Purdue in college, and was likewise expected to rule on both ends of the floor as a pro. To his credit, he had his share of 20-ppg seasons, but his efforts on rebounding and defense more than justified his unflattering nickname "Joe Barely Cares." After seven and a half years with Golden State, Carroll became a literal and figurative journeyman, playing for four more teams in three and a half seasons and not putting up the numbers expected from a supposed franchise center.
THE BEST – Kevin McHale (BOS, PF, 6'10-220, #3) – No question about who turned out to be the pick of the litter here. Kids of today's generation think of the Glee actor when they hear the name Kevin McHale. But back in the old days (cough, cough), Kevin McHale was the name of the Boston Celtics' top frontcourt defender, also a talented inside player who had two seasons shooting at a 60% clip from the field. He retired with three NBA titles, seven All-Star appearances and one slot on the All-NBA First Team in 1987, when he averaged 26.1 ppg and 9.9 rpg.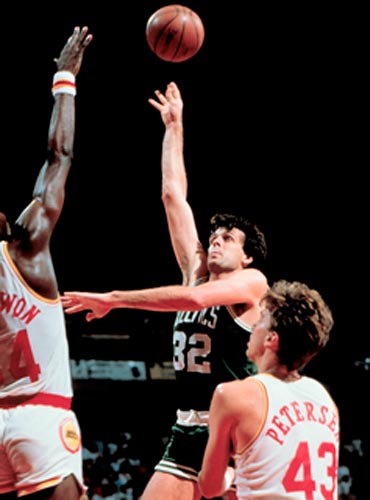 THE BUST – James Earl Ray (DEN, PF, 6'8-215, #5) – This guy has the dubious distinction of sharing the exact same name as Martin Luther King's assassin and being one of the biggest NBA Draft busts of the '80s. It boggles the mind as to what Denver was thinking when they drafted this mid-major power forward with good, but not great college stats. Then again, 1980 wasn't a good year for power forwards, and the Celtics had just taken McHale at third overall, so that's probably the reason the Nuggets took the gamble. Fortunately for Denver, they got Kiki Vandeweghe at 11th overall, so the first round of the 1980 Draft wasn't a total washout for the Nuggets.
Ray's NBA averages over a nondescript three-year career – 3.2 ppg, 2.2 rpg, 43% from the field.
THE STEAL – Jeff Ruland (GSW, C/F, 6'10-260, #25) – If not for an unfortunate foot injury that occurred in just his fourth NBA season, we could've been talking about an NBA Hall of Famer. After playing a year in Europe, Ruland's draft rights were traded to Washington, where he quickly became one of the NBA's top big men. He was a terrific passer for his position, and he could post 20-10 games in points and rebounds like nobody's business.
Midway through the 1984-85 season, something happened on the way to Springfield, and that was a broken foot that refused to heal. This led to his retirement at the tender age of 28, following a 1986-87 campaign where he played in just five games. Ruland returned to the NBA from 1991 to 1993 as a backup for the Philadelphia 76ers and Detroit Pistons before retiring for a second and final time.