Mark Jackson for Coach of the Year
By Lorenzo Tanos
As of this writing, the Golden State Warriors are fresh off a tough loss at home to the resurgent, yet inconsistent Los Angeles Lakers. Yet, they remain at second place to the L.A. Clippers in the Pacific Division with an 18-10 record. And that's despite scoring only 1.6 points per game more than their opponents do. Such numbers suggest that there's one man primarily responsible for this surprising turnaround – the coach.
When he took over the helm in Golden State for the 2011-12 season, Jackson promised to teach the Warriors to play defense. This was a team, after all, that usually relied on their offense as the best kind of defense – as long as the team's running and shooting, everyone's happy. That was the way they had played since the Don Nelson era back in the late '80s and early '90s, and while the Warriors benefited from some talented lineups and Nellie's coaching ability back in those days, the Warriors of the mid-'90s onwards weren't as talented, motivated or, in many cases, well-coached.
Even Nelson's return for the 2006-10 seasons only yielded one Playoffs appearance (the only Warriors postseason stint between 1994 to 2012), albeit a very memorable one, as 2006-07 was when the Warriors upset the top-seeded Dallas Mavericks in six games to reach the Western Conference semis.
Now it looks like Jackson could be leading the Warriors to a Playoffs stint in 2013. And he's doing it with something previous Warriors coaches, Nelson included, haven't been successful with and/or willing to teach – defense. And he hasn't sacrificed the Warriors' offensive potency in the process. Sure, the Warriors are still giving up a shade over a hundred points per game, but in most cases, they're just as sharp on the defensive end as they are on offense, thanks to players like Jarrett Jack and now, Stephen Curry. Even rookie Festus Ezeli is making a good account of himself, starting as center in the absence of Andrew Bogut (another good defender, might we add), and making his presence felt by keeping the paint safe.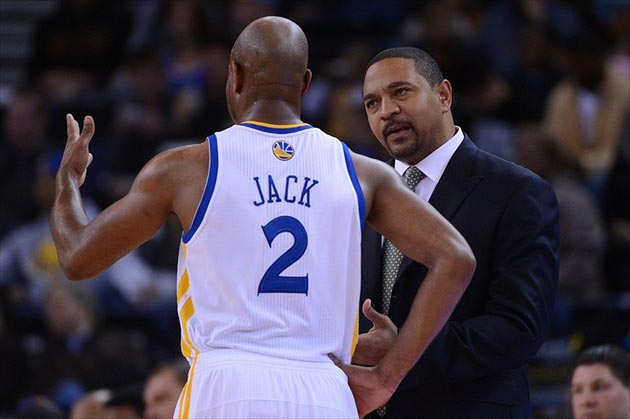 Forget his nonexistent offense – it's defense where the rookie big man from Vanderbilt excels. And yes, the high-octane offense remains – David Lee is having a career year, showing his skills as a good-passing big man and regularly dominating opponents with 20-10 games. Curry and Thompson are hitting their stride from long range. And Golden State also has two super-subs capable of hitting 20 or more on any given night – reserve PG Jack and reserve combo forward Carl Landry. Going back to the man who calls the shots, Jackson also deserves a shout-out for his positive outlook and ability to get the most out of his talented young players.
Having said all that, Mark Jackson is, as I see it, the runaway leader at this point for Coach of the Year honors. And he's done it by being a great defensive teacher, by using his experience as a top-caliber NBA point guard, by allowing the Warriors to play their usual offensive style and by motivating his players the right way.