LeBron James Finals Funk
By Dennis Berry
Defining Moment for the Future of King James
It has been a rough year for "King" James. It seems like he can do nothing right. Fans and media are just waiting for something else to rip him for anything he does wrong.
To be honest, LeBron James brought this all on himself.
We know this all started last summer. Many point to "The Decision" as the point when people turned on him, but the seeds were planted in the NBA 2010 playoffs. James and the Cleveland Cavaliers were eliminated by the Boston Celtics and questions about whether James had quit on his teammates rose.
Of course all James did in his final game in Cleveland was lead them with 27 points, 19 rebounds, and 10 assists. Still people found a way to put the blame on James for the loss. That was only the start.
Then that summer James had "The Decision". That night James took another hit with his live announcement on ESPN that he was leaving Cleveland and "taking his talents to South Beach." It was not that James was leaving Cleveland, it was just the manner in which he did it. Then taking almost a year to acknowledge that "The Decision" TV event was not the best way to make his announcement.
After an up and down regular season, it appeared the Eastern Conference playoffs brought redemption for James as the Heat knocked out the Boston Celtics in the East semis, but the Eastern Final's series clinching game may have been James at his best. James scored 28 points, but his clutch shots in the final two minutes was what helped bring the Heat back from a 12 point hole with three minutes left. Those shots and the Heat comeback left little room for James critics to knock on him.
Then came the NBA Finals.
These Finals have given James' critics plenty of ammunition. The one that will probably haunt James if the Heat lend up losing the Finals will be game four. Without a doubt, this was James' worst effort with so much on the line. He only scored eight points… for the whole game.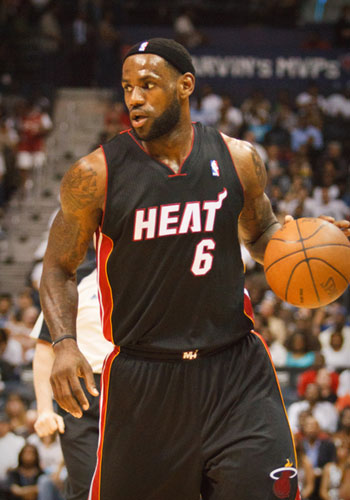 James seemed frustrated throughout the whole game. He shot only 3-11 from the field including 0-3 from the three point line. He went scoreless in the fourth quarter as the Dallas Mavericks once again came back from a fourth quarter defect. The question is why is James struggling?
Perhaps it has something to do with Dwyane Wade. When Wade scores 30 or more points James' production takes a hit. He scores fewer points and takes fewer shots. Game four is the perfect example. James did only score eight points, but he did have seven assists and nine rebounds. So maybe we should not concrete on James offensive production..
It's almost as if James does not try to rise to the level of Wade in the finals. Instead he turns into a facilitator. It is understandable, because he does not want to take the ball out of Wade's hands, but it hurts the Heat. James is a great offensive weapon, but being passive takes away part of what should be the best scoring combo in the league.
James has only scored nine points in the fourth quarter in the NBA Finals. That does not really help Scottie Pippen claim that LeBron is the greatest player of all time. That claim looks ridiculous now. Not only did Jordan never lose a NBA Finals series, he never scored less than 20 points in a Finals game, let alone go scoreless in the fourth quarter.
There is time for James to redeem himself. There are at least two games left in these finals. If James wants to prove that game four was a fluke, then game five will be the most important of his career. He has to come out and show an aggressiveness and desire to win that he has not shown before. He needs to stop settling for jump shots and attack the rim. If Jason Terry or Jason Kidd tries to guard him, he needs to post them up.
If James truly wants to be known as "King" then the time is now. If the Heat end up losing this series, then it will be another long summer of ridicule for James.