Kobe Bryant Adapts
By Dennis Berry
There is no question that Kobe Bryant is one of the best scorers in the history of the NBA. Going into Tuesday night's game against Brooklyn Bryant, he has scored 30,813 points in his 17 years in the NBA. He has averaged at least 25 points a game for the season 11 times in his career. 
So far this season he is averaging 27.7 points a game. That is impressive for a guy who has played in 1,209 regular season games.
This season the Lakers have been far from impressive, though. After bringing in Steve Nash and Dwight Howard, there was plenty of championship hype in Los Angeles. Unfortunately the season has not gone the way many LA fans envisioned it would.
The Lakers got off to a 0-4 start which led to the firing of Mike Brown as head coach. Brown was replaced with Mike D'Atoni in the hope that he could get the Laker's offense on track. That did not happen right away, though. The Lakers still struggled to a 17-24 record during the first half of the season.
The start of the second half, the Laker's season can give the Laker's faithful some chance of hope. Los Angeles has a 5-2 record since the halfway point of the season. That includes wins against two teams that are currently in the playoffs if the season were to end today – Utah and Oklahoma City. This is the Laker's best run since winning six of seven games at the end of December.
Bryant's play in the recent stretch of games is why LA is making a push. It's not his scoring that is getting the job done; it is his unselfish play that is making headlines. Starting with the win against Utah, Bryant's scoring is down and his assists are up.
He has only scored more than 20 points once in the last six games. He scored 21 points in LA's 105-96 win against Oklahoma City. He also dished out 14 assists in that game.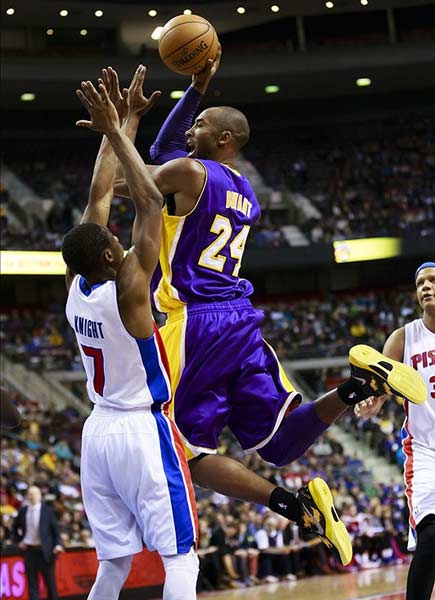 It was the second straight game that Bryant had 14 assists. He also had 14 assists in a win against Utah two days earlier. In fact, since that Utah game, Bryant has been averaging 10 assists a game over the last six games.
What is his scoring average over those six games? 16.8 points a game.
Kobe Bryant's Last Six Games:
| Opponent | FG - FGA | Rebounds | Assists | Points |
| --- | --- | --- | --- | --- |
| Utah | 7-10 | 9 | 14 | 14 |
| Oklahoma City | 8-12 | 9 | 14 | 21 |
| New Orleans | 5-12 | 8 | 11 | 14 |
| Phoenix | 7-17 | 5 | 9 | 17 |
| Minnesota | 4-13 | 12 | 8 | 17 |
| Detroit | 8-20 | 3 | 5 | 18 |
This is a big change for Bryant but one that the Lakers may need if they are going to try and make the playoffs. The Lakers are not at their best when Bryant takes over games. They are only 7-14 in games in which Bryant scores more than 30 points.
The Lakers have way too many weapons for the one man to control the ball. D'Atoni's offense is much better when there is ball movement and everyone is able to get touches. Bryant's willingness to create shots makes him even tougher.
Teams know that Bryant can score pretty much whenever he touches the basketball. Now that he has shown that he will give the ball up and create shots for his teammates, defenses might be less willing to double team him, which would mean Bryant could see more one-on-one chances to score.
There is no doubt that the most interesting team in the NBA is the Lakers. With this latest development of Bryant becoming a facilitator, the next chapter of a crazy Lakers season has begun.