Kevin Love Is Recording An Excellent Start in The 2013-2014 Season
By Ron Leyba
After missing the biggest part of the 2012-2013 season and recording career lows in shooting and points per game, Kevin Love is back and dominant this season. The versatile forward/center is putting up superb performances in his first eight games of the season with the Minnesota Timberwolves.
His fractured and then re-fractured shooting hand forced Love to be inconsistent with his shooting. Even prior to his injury last season he wasn't himself. The 25-year old star heavily relies on shooting. Without a good feel for his shooting hand, it was inevitable for him to be out of pace.
In fact, there were some concerns about his performance this season and how this injury would affect his production and his accuracy from the field. Kevin Love managed to respond to these concerns the best way by simply being dominant.
He has exploded for 26.4 points per game and an astonishing 15 rebounds. He is fairly considered as a double-double machine, since he records double digits in scoring and boards almost every night. His shooting stroke is back once again, too. Going 46.7 percent from the field and 36.4 percent from three-point territory, Love seems to be in a glittering rhythm.
There is some speculation about him joining the Los Angeles Lakers next season. Some analysts state that the 6'10" forward is currently auditioning his contract with the Lakers. However, he still is under contract with the Wolves for the next two years and he has a player option for the 2015-2016 season. The chances he departs from Minnesota are not big, at least for the moment, but not neglectful either.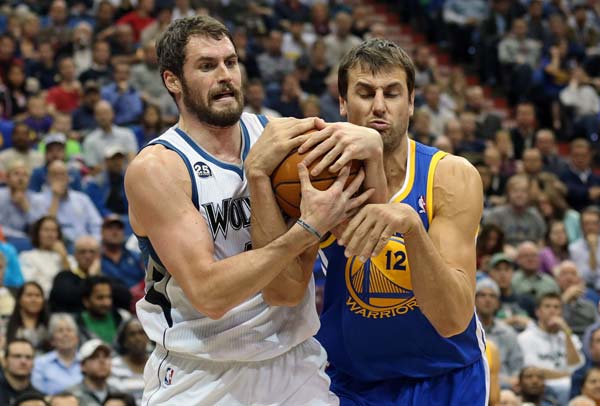 Up to the point Love's contract is due to expire and the talk about his future heats up, the Wolves will have the luxury and the pleasure watching him put up huge numbers and help the team win. Minnesota is now on a 5-3 beginning in the 2013-2014 season and they have set the tone for a solid course this season. The ultimate goal of course still remains the participation to the postseason and that something that can be done.
Love and Kevin Martin seem like they fit each other in the Timberwolves team. They both drastically increase the team's firepower from three-point territory and they also acquire much defensive attention. Having a quality big man like Nikola Pekovic filling the paint only makes the work for Love and Martin easier in the perimeter.
Right now, Love's absence during the previous season is exposed. He is a difference maker in Minnesota and he is breaking one record after another. After becoming one of the four players in the history of the NBA to record 30 or more points, 15 or more rebounds, eight or more assists and three three-pointers in a game, Love went on to set another record during the most recent game against the Los Angeles Clippers. He became the only player in league history with at least four three-pointers, 19 rebounds and seven assists in a game.
Ron Leyba is the lead editor of www.fantasybasketballmoneyleagues.com – premiere source of NBA updates, rumors and fantasy basketball. His latest write up talks about the fantasy basketball sleepers of 2014, you might want to check it out. For more updates, follow Fantasy Basketball Money Leagues on Google+.