Kentucky's Michael Kidd-Gilchrist Should He Stay or Should He Go
By Dennis Berry
One of the more polarizing topics in college basketball is "one and done" players. It is a yearly topic about who should leave for the NBA after only one year in college. That's leads to why the "one and done's" are bad for college basketball, which leads to who is to blame.
Last year there was a change in the air with best freshmen players. Freshmen like Ohio State's Jared Sullinger, Kentucky's Terrence Jones, and North Carolina's Harrison Barnes returned for another year of college.
This past Saturday another freshmen standout, Kentucky's Michael Kidd-Gilchrist, made news for comments made after a victory over Vanderbilt.
"I'm graduating here. I'm not going nowhere," Kidd-Gilchrist told reporters when asked whether he is returning to Kentucky next season. "I'm dead serious. I don't know why y'all laughing."
Those comments sound similar to Jared Sullinger's comments after OSU lost to UK in NCAA Tournament. After that game, he told reporters that he would also be returning for his sophomore season. Sullinger was visible upset with the loss and few expected that he would come back.
For what it is worth, Jones and Barnes both waited until the day the final day to announce they were returning. All three figured to be taken high in the draft if they had stayed. All three pointed towards the chance to win a national championship as a reason to return.
Kidd-Gilchrist comments came out of the blue. Kentucky had just clinched the 45 SEC Regular Season Championship in the program history. Kentucky with its mix of young and veteran players are one of the favorites to win the national championship this year.
This year Kidd-Gilchrist emerged as one of the best players in the country. He leaves everything out on the court every game. You need the opponents best scorer shut down, put Kidd-Gilchrist on him. Offense can't do anything, get the ball to Kidd-Gilchrist and let him drive.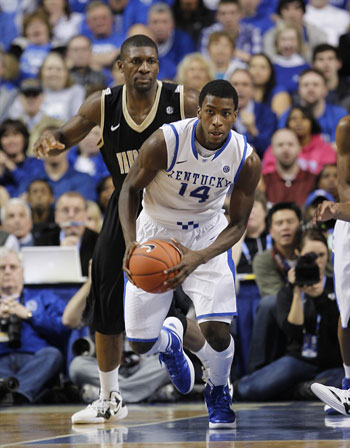 You would think that hearing Kidd-Gilchrist would return would be a dream come true for his coach. Well if it was any other coach in the country it would be. His coach is John Calipari. The coach that many believe brings freshmen in and then pushes them out.
When discussing the topic this past week, Calipari said Kidd-Gilchrist would have to justify his staying in school.
"If Michael is the number one pick in the draft, yes I would wrestle him to floor and say what are you thinking? He would have to come up with reasons to come back and convince me," Calipari said. "What if he got hurt and I convinced him to come back. Or something happened to him in his draft ability and future. It would be hard to live with myself. This is about these young people. But you can't make a decision until the year is out and you see all the information."
If Kidd-Gilchrist decides to stay for another year at UK, perhaps it may not be such a shocker. ESPN's Chad Ford would be one that would not be surprised. He took to twitter to say he has heard that he heard that Kidd-Gilchrist would be back.
While Kidd-Gilchrist has been climbing up draft boards all season long, there may be more he needs to work on. So far this season Kidd-Gilchrist is shooting 47% from the floor that number can be miss leading. If you have watched him play, a lot of his shots come from driving to the basket and getting offensive rebounds.
He does not have a great jump shot. That can be seen when you look at his three point field percentage, which is 27%. Developing a better jump shot from 15-feet out is a must for him if he wants to be more than a slasher in the NBA.
At same time if Kidd-Gilchrist is a Top Five pick in the NBA draft, how do you tell him to stay? Look at Jared Sullinger and Harrison Barnes. Last year Sullinger was the top pick by many if he declared for the draft. Barnes was also seen a sure fire top five pick.
Fast forward a year and Sullinger is no longer the top pick. That will be Kidd-Gilchrist's teammate: Anthony Davis. Barnes' game has been exposed as only a jump shooter and his stock is no longer nearly as high.
Calipari does not want that to happen to Kidd-Gilchrist. He wants him to take advantage of being a high draft pick. To get the money and security that comes with it. It is something that will not only for effect Kidd-Gilchrist, but his family as well.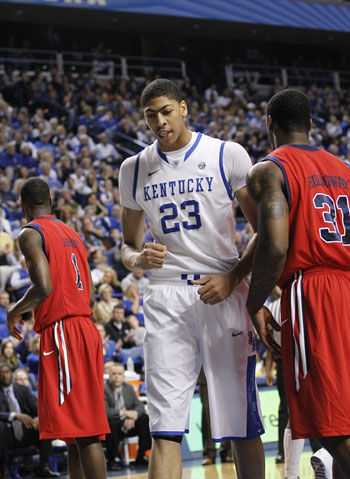 At the same time John Calipari will not meet with Kidd-Gilchrist to convince him to leave. He will talk with him to make sure he fully understands the implications of returning to school as opposed to leaving after one year and determine if his reasoning is sound.
Another thing to remember is that Kidd-Gilchrist did not turn 18 until he was at Kentucky. Perhaps he could use another year at Kentucky to mature and learn to handle the pressure of high level basketball. Maybe he just needs another year to be a kid and enjoy college.
And perhaps Gilchrist may be different and values a college degree more than a NBA paycheck. In the end, it should be Kidd-Gilchrist decision to make.