Dwyane Wade Is Playing Big For The Miami Heat This Season
By Ron Leyba
It's no secret that the Miami Heat had lots of concerns regarding Dwyane Wade's health condition and his performance entering the 2013-2014 season. After the second championship in a row, there were many questions if D-Wade would continue to struggle for extended stretches of the season. His body is not getting younger and his legs are being loading with more miles. Nonetheless, the 30-year old megastar silenced all the doubters with the most sizzling way, with his performance.
Although LeBron James stood out of the Big Three last season and although he continues to do so this season, too, Wade is not left far behind. Prior to the start of the season, Erik Spoelstra stated that he planned not to use him when the team is playing back-to-back games. That only made Miami Heat fans worry more about Wade's health. Could he ever be the dominant superstar guard he once was? Or would his body eventually keep him away from his explosive performances?
As a matter of fact, Wade is showing more and more of his skills this season. He is putting up big numbers, he is proving that he hasn't lost much of his leaping ability and he set the tone for even bigger things to come when the playoffs arrive.
Up to this point of the season Wade ranks second in scoring for the Miami Heat with 19.4 points per contest to go along with 4.8 rebounds and as many assists. He is shooting very well from the floor, 53.5 percent and due to the fact that he has cut down on his three-pointer attempts, he is recording a decent 41.2 percent from downtown. In fact, most of his shot selections come from his comfort zones. The entire Heat team seems like it plays in a much smarter and wiser way this season, utilizing each weapon the best way.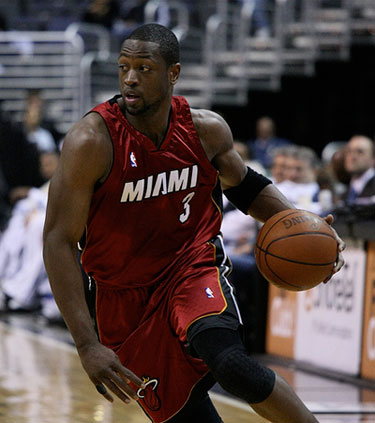 Dwyane Wade is an essential part of the success the Miami Heat have seen up to now and he will continue to be as essential as the team moves forward. Thankfully, Erik Spoelstra has the luxury to keep Wade out during back-to-back games but we just recently saw Wade choosing to play on the second game in a row. Plus it's notable that this game came against the Orlando Magic, a low-tier opponent.
The Miami Heat are cruising on autopilot this season. They don't aim for the No.1 seed in the East. What they care most about is to preserve their powers and go full speed during the postseason. Dwyane Wade has the same mindset. Nonetheless, he proves every night that he is still a superstar, he can still play at the highest level and finally, that he is one of the top shooting guards currently active in the league.
Come playoff time, when the true test for this Miami Heat team begins, it will be proven if Wade can deliver with consistency, just like he did during the past few years.
Ron is the lead editor of www.FantasyBasketballMoneyLeagues.com – premiere source of NBA updates, rumors and fantasy basketball. For more of his basketball insights, follow @nbafantasyinfo on Twitter or add Fantasy Basketball Money Leagues on Google+.