Don't Blame Kobe
By Dennis Berry
You can point to multiple reasons as to why the Lakers are not winning like many thought they would. They play poor defense. They give up way too many points in transition. They still have not played as a full team with Steve Nash still out because of a leg injury.
The one player you cannot blame is Kobe Bryant.
Yet that is exactly what FOX Sports Jason Whitlock did when he blamed Bryant's ego for the Laker's struggles so far this season.
"The root cause of the Lakers' dysfunction has been consistent for 15 years. It is Kobe Bryant's ego, his desperate pursuit of Michael Jordan's legacy."
Now when it comes to Kobe Bryant, you either love him or hate him. There seems to be no in-between when it comes to the 14 time All-Star. To put all the blame on the Laker's struggle is simply too easy.
Bryant is playing his best basketball in years. He is averaging 29.5 points a game so far this year. He is shooting 47% from the field and 38% from behind the arc. If he keeps up at that pace, those will be career highs.
Remember that Bryant is in his 17th season.
The truth is that Bryant is carrying this Lakers team. He knows that this team is not at full strength. Steve Nash has been out since the second game of the season. Pau Gasol missed eight games because of tendonitis. He is just doing more because he knows he has to do so.
Whitlock points out that the Lakers need to become Dwight Howard's team if they are going to be successful. He compares this team to when LeBron James joined the Miami Heat, focusing on how that team was not able to win until Dwyane Wade let James become the focal point of their attack.
That comparison is not a fair one. When it comes to the Heat, they had to become James' team. James is the best player on the planet and the Heat struggled until they let him play like it. Dwight Howard might be the best big man in the NBA, but is not one of the best players of all time.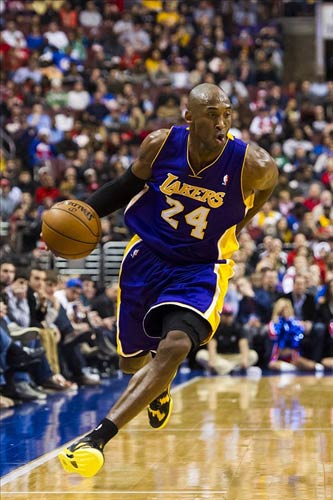 Kobe Bryant is a Hall of Fame player. He has won five NBA championships. He is a two time NBA Finals MVP and has a MVP trophy on his shelf.
Howard's resume is nowhere close to Bryant's. Besides being an outstanding defensive player the only thing Howard has done is taken the Orlando Magic to the NBA Finals. They would lose to the Lakers 4-1 in 2007.
Then you have to take into account that Howard is a liability at the end of games. We have seen time and time again that Howard cannot be on the floor at the end of a close game. His poor free throw shooting – 51% this season – can cost his team at the end of a game.
Bryant, on the other hand, has proven that you want the ball in his hands at the end of games. He has come through in the clutch countless times in his career. Just look at their come-from-behind win against the Bobcats.
The Lakers were down 84-79 entering the fourth quarter. In that quarter, Bryant played all 12 minutes and scored 10 points. Howard played only 6 minutes as he was subbed in and out for defense. The Lakers did not want the Bobcats fouling him to make Howard shoot free throws. He did not score a single point in the final quarter.
That pretty much sums up the case against Howard being the leading man in Los Angeles.
Bryant is the closest thing the NBA has seen to Michael Jordan. He has an intense drive and cares about winning. He is trying to keep the Lakers afloat while this team gets healthy and can make a midseason push to get back into the playoff picture.
The Laker's struggles are because of the makeup of their roster, not the play of one of the best players in the game.