Connecticut Huskies Basketball 2011 - 2012 Preview
By Dennis Berry
Too Much Hype for Connecticut?
So it does not appear that Jim Calhoun is ready to ride off into the sunset just yet.
The announcement that 6'11" center Andre Drummond would reclassify to the class of 2011 and attend Connecticut changes the college basketball landscape. Drummond announced on Twitter Friday that he would go to Connecticut. He then followed that up by asking Connecticut fans if he hears "repeat."
Drummond, who has already graduated high school, was all set to attend Wilbraham & Monson Academy, a prep school in Massachusetts. Many believed that Drummond would go to prep school for a year and then enter the NBA Draft. Drummond did have a list of schools he considered playing for: Connecticut, Kentucky, Louisville, Georgetown, and West Virginia.
So what will Drummond bring to Connecticut? Drummond was seen as one of the best big men in the 2012 class. He will add another shot blocking and rebounding presence to the Huskies on defense. His offensive game is, by all accounts, still developing. He has been noted to have great passing ability in the post.
Adding Drummond will give Calhoun the opportunity to go big if he needs to. He could go with a front court of Drummond, Alex Oriakhi. At small forward the Huskies can go with Roscoe Smith or another highly touted incoming freshman DeAndre Daniels. Add in returning sophomore Jeremy Lamb, who will be looked at to replace the scoring of Kemba Walker, and freshman point guard Ryan Boatright. That gives the Huskies a very good lineup.
The only question is whether Connecticut can live up to the hype? Connecticut has now vaulted up into the top five of many of college basketball observers preseason Top 25 ranking. Connecticut has become the favorite in the Big East and some believe they could win back-to-back national championships.
There is no doubt that Connecticut will be loaded with talent next season. Will that talent have the same will to win as last year's Huskies? Last season the Huskies finished ninth overall in the Big East during the regular season, but won games when it mattered. They were undefeated in tournament games: The Maui Invitational, Big East Tournament and NCAA Tournament.
The main difference between last season's team and this season's version will be the missing of one player: Kemba Walker. The clear leader of the national title team, the loss of Walker is the most important role to fill. Walker was the leader. He was the guy who stepped up and took the big shots for Connecticut.
Here are some highlights from Walker's final season at Connecticut.
Many look to sophomore Jeremy Lamb to be able to fill those shoes. Lamb broke out in the NCAA Tournament and gave Calhoun another needed scoring threat. Lamb raised his scoring from 10 points a game during the regular season to 16 points a game during the NCAA Tournament. Now that Walker is gone, will he be able to put this team on his shoulders the way Walker did?
While the addition of Drummond makes Connecticut even stronger in the post, one area of concern will be outside shooting. The Huskies were not a great shooting team last season. They ranked 182nd in NCAA Division I in field goal percentage and were ranked 221st in three point percentage.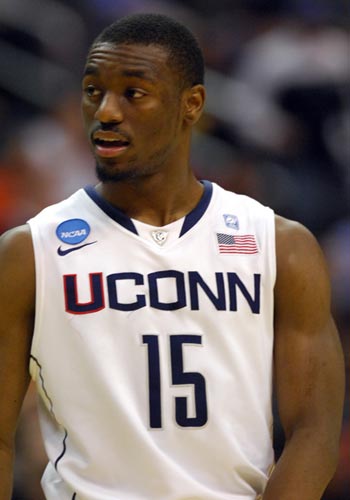 The strength of last year's Huskies was defense. They were ranked 11th in the country in opponents field goal percentage. They also held teams to just 33 % from the three point line. They blocked almost 6 shots a game, good enough to rank 11th in the nation.
So even though there is a lot of talk about Connecticut with the addition of Drummond, there are still questions. How will the incoming class of freshmen mesh with those already on the team? How fast will those freshmen pick things up? How will this team react when things get tough and who will lead them when that happens?
Those are some of the same questions other teams face. Connecticut will have the talent to compete in the Big East, but one would have to believe that Louisville and Syracuse would be favored to win it. As far as a repeat goes, they will have to get through the Big East and then be faced with North Carolina, Kentucky, and Ohio State at some point.
What Connecticut has on paper right now looks good. Although it appears that it is missing one important piece to make a run at a repeat: Kemba Walker.