Conference Call with Shane Battier
By Dennis Berry
Wednesday night we were able to take part in a conference call with Miami Heat forward Shane Battier. The team had just arrived in Indianapolis on the eve of game six of their Eastern Conference semi-finals series with the Indiana Pacers.
Battier was on the call to discuss the NBA playoffs and the American Century Celebrity Golf Championship Tournament that takes place July 17-22.
Of course the big news was the NBA announcing the suspensions of Heat players Dexter Pittman and Udonis Haslem. Pittman was suspended one game for his elbow to Lance Stephenson and Haslem for his foul on Tyler Hansbrough. Both fouls were called flagrant one during the game, but upgraded to flagrant two.
The announcement came just as the team arrived in Indianapolis. Even though the Heat will be short two more players, he was not ready to use that as an excuse.
"We have to move forward and be ready to play," said Battier, "I am confident that the team will be ready to play."
Battier was asked a "what if" question. What if the league suspended Hansbrough for his hard foul on Dwyane Wade? If the officials had ruled it a flagrant two during the game, Hansbrough would have been ejected and Haslem would not have retaliated.
"As players you cannot worry about what the NBA does," said Battier.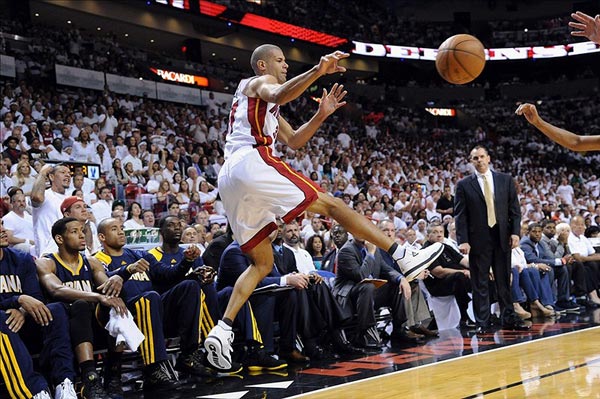 He also feels that even though the team is short handed, he does not have to change his game.
"My job has not changed. My game is not defined by the amount of points I score." Battier then said that he has other responsibilities. "My job is to go out and make basketball plays. I need to get rebounds, get loose balls, and make smart plays."
He also expects the Indiana crowd to be ready for the game tomorrow.
"Home court is very important, especially in the playoffs," said Battier, "Indiana fans have a lot of pride; it is a state that loves basketball."
Battier also said he expects the Heat to be ready for tomorrow night. Miami has a chance to close out the series, but will be facing a tough challenge on the road.
"We are going to put together an effort that would make Udonis and Dexter proud."