California Dreaming: NBA Trade Rumors
By Dennis Berry
California Dreaming
If you have followed the Best Basketball Blog recently, then you have noticed that there has been a focus more on college basketball. That is because there has been actual games and news to talk about. It is easier to write about that then a lockout.
Well that all changed during Thanksgiving weekend. On Black Friday while many were out shopping for the upcoming holidays, the NBA and NBA Players were busying ending the lockout. After 149 days there would be a basketball season.
Training camps are set to start this Friday. Teams will only have two games in the preseason, which starts on December 16. Then the season will begin on Christmas Day, normally a day of great NBA games for fans during the holidays.
I have been reluctant to write about this because nothing was set in stone. The players have yet to vote on the new collective bargaining agreement; they will do that on Wednesday afternoon. So hopefully that will go through with no problems and we can get ready for actual NBA games.
But Monday night as I was scanning Twitter, there was a tweet sent from ESPN's Chris Broussard that was an attention getter. The Lakers are planning to go after Dwight Howard AND Chris Paul. The Lakers are willing to part with anyone not named Kobe Bryant to make it happen.
Could you imagine the reaction around the rest of the NBA? I imagine it was something like this.
Getting one of the players would help the Lakers out in the post Phil Jackson era. Acquiring Paul would give the Lakers an outstanding floor general to run the offense for new Head Coach Mike Brown. A trade for Howard might mean giving up Paul Gasol or Andrew Bynum, but Howard would be a huge upgrade in the middle.
Getting both would turn the Lakers into instant NBA Finals favorites in the West Conference.
The news was without a doubt the biggest of trade rumors and it comes after hearing both Paul and Howard being mentioned in other trades.
First there were reports that the Boston Celtics would be willing to trade Rajon Rondo to New Orleans for Paul. That appeared to be dead after Paul would not sign a long term contract in Boston. Though now there are reports that Boston wants to make a trade for Paul.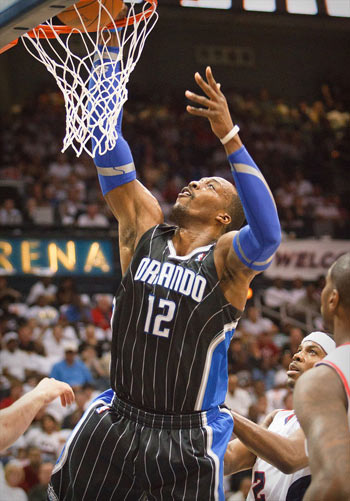 There were also reports that Paul would want to be traded to the New York Knicks. Paul is close friends with Knicks star Carmelo Anthony. Rumors Paul would head to New York after his contract expired with New Orleans. Add Paul to Anthony and Amar'e Stoudemire would give the Knicks a line up able to compete with Boston, Chicago, and Miami in the East.
There were also reports that the New Jersey Nets wanted to trade for Dwight Howard. Obviously bringing in Howard would help the Nets improve their team and also show Deron Williams they are serious about winning. Williams has not committed to New Jersey beyond this season. The duo of Williams-Howard would help give the team a better product as they prepare to move to Brooklyn in 2012.
The Lakers are not the only team in California interested in bringing in both Howard and Paul. The Clippers appears to be players for them as well.
Yes you read that right the Clippers. Can you imagine the Clippers making a move this big? What about the possibility of seeing Paul, Howard and Blake Griffin on the same team. I don't know what is scarier: the thought of that trio on the floor for the Clippers or the Clippers actually making the moves to get them.
At this time we can only wait to see what happens. Teams cannot start making rosters move until December 9. Until then let the rumors fly. It is nice to hear about this instead of NBA negotiations.