Butler vs UCONN Preview
By Dennis Berry
NCAA National Championship: Butler Bulldogs v Connecticut Huskies
The national title game is set. The Butler defeated VCU 70-62 to move on and Connecticut was able to withstand a late rally by Kentucky and won 56-55. This will be a match up of two of the hottest teams in the country.
Butler comes in on a 14 game win streak, having not lost a game since early February. Connecticut enters the game on a 10 game win streak and is 13-0 in games played in neutral locations. The Huskies have also not lost a game outside the Big East.
Butler will be lead by the duo of Shelvin Mack and Matt Howard. Mack continued his stellar play in the NCAA Tournament against VCU. The junior scored 24 points, making five three pointers. Mack came up huge in the second half when VCU cut the lead to one. He scored 8 straight points to help push the lead out to seven.
Matt Howard was able to add 17 points and eight rebounds. The senior had a bad shooting night, only going 3-10 from the field, but was 11-12 from the free throw line. He was also limited in the second half because of fouls, getting called for his fourth foul with just under 10 minutes in the game.
But VCU could not capitalize as they shot only 39% from the field and looked tired after becoming the first team to win 5 games to make the Final Four.
For Connecticut, it was Kemba Walker and Jeremy Lamb leading the way once again. Walker scored 18 points and Lamb added 12 points and were the only Huskies in double figures.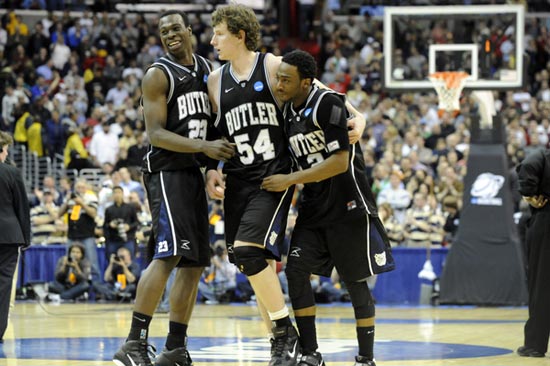 The key for the win over Kentucky was their physical defense. Connecticut controlled the paint, not allowing the Wildcats to get easy points. It also helped that Kentucky, who normally is a 72% foul shooting team went only 4-12 from the free throw line. The Huskies also held the Wildcats to 9-27 on three point attempts.
Walker might have only had 18 points, but whenever the Wildcats made a run or got it close it was Walker who answered. With either a basket or creating an opportunity for a teammate, Walker was determined to not let his team lose.
So this leads us to the National Championship game on Monday Night.
The match up to watch will be Walker against Mack. We don't know if the two will actually be going against each other on both ends. Both guards have been the reason their teams have gotten this far, and one would expect that both will raise their game up with the title on the line.
Experience wise, the edge goes to the Bulldogs. This is their second straight trip to the national title game, seeing as how no Huskies player has been this far before. On the other hand Connecticut does have what it takes to win titles, having won the 2010 Maui Invitational and Big East Tournament. Although, playing in front of what could be 70,000 plus for the national championship will be a first for them.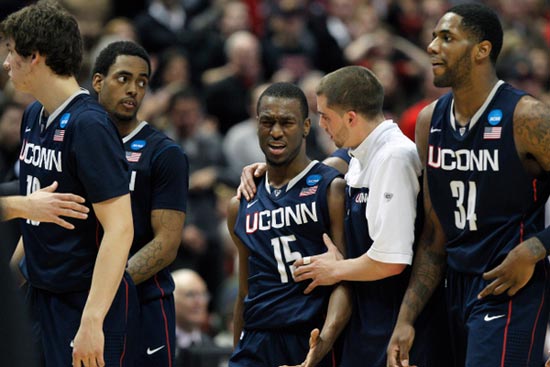 Coaching wise this is another great match up. With Brad Stevens of Butler going against Connecticut's Jim Calhoun. Stevens is looking for his first title, while Calhoun is looking to add a third title to his resume.
There are also rumors floating that if Connecticut wins the title, Calhoun might consider retiring. The 68 year old coach has hinted for the past few seasons that he might retire soon. With a NCAA suspension looming next season for the first three Big East conference games, why not just walk away a winner.
If Butler wins, it would just add to the already rising stock of coach Brad Stevens. Stevens is seen as the best young coach in the country. Many wonder if Butler will be able to hang on to him, win or lose this game. Many outsiders say it is only a matter of time before a big time college program comes and makes an offer Stevens will not be able to refuse.
It is hard to bet against Connecticut right now, with their record in tournament games and having the best clutch player in the country right now. On the other hand, you have an experienced Butler team that came within a point of winning the title last season and they want to finish the job this year.
Monday night will close out college basketball and we have a great match up to finish it out. Two great teams go in and only one walks away happy. Regarless of the outcome, one can expect nothing less than a tough battle to the very end. This will definately be a game that no college basketball fan will want to miss.