2013 NBA Basketball Team Preview: Houston Rockets
By John
The Houston Rockets made more news in the offseason than any other team in the NBA. Bringing in Dwight Howard will do that. Let's size up the team that will become a major discussion point in the soon-to-begin NBA season.
Houston's Strengths:
The Rockets are talented. That might seem like an obvious statement and, moreover, a lazy one, but one should appreciate the point of emphasis here. In terms of raw skill and ability, Houston has championship-level tools to work with. James Harden is a star-level player. Dwight Howard is a star-level player. Jeremy Lin is not quite a star, but he can be brilliant at times, and with Howard on the floor, he might gain a comfort zone he lacked last season.
Chandler Parsons is a quality player who has surprised a lot of NorthBet basketball analysts with his growth as a professional, following an up-and-down career at the University of Florida. Terrence Jones is an uncut gem, a mercurial player with a volatile temper and very little discipline who – if he can get his head on straight – could become a terrific performer in the Association.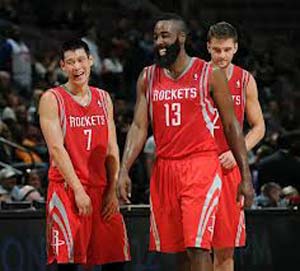 Omer Asik is a gifted rebounder-defender, a player with a nose for the ball who is fearless near the rim. Aaron Brooks is a quick playmaking guard who can back up Lin and be very effective in that role. Ronnie Brewer has, at times, been a productive small forward in this league. There are so many players who have made – and can make – substantial contributions to this team. The collective ability of the Rockets is unmistakable. This point is worth broadcasting.
Houston's Weaknesses:
The Rockets aren't likely to take all that potential mentioned above and turn it into results. The Rockets have to prove that they can transform talent into a polished, finished product. Guys like Terrence Jones and Ronnie Brewer are not consistent. Lin got exposed at the point last year. Brooks is undersized. Asik is a liability on offense; he's mostly a two-skill player (defense and rebounding). Harden is not a particularly strong defender, since his focus lies at the offensive end of the floor.
Yet, these are all minor weaknesses for the Rockets. The big issue is Dwight Howard. He's a prima donna who has disrupted the chemistry of the last two teams he's played for, the Orlando Magic and the Los Angeles Lakers. Howard hurt team morale and has managed to become a sideshow. His back is not 100 percent, meaning that it will be a challenge for him to make it through the full season without some injury issues.

Moreover, Houston is a team that loves to spread the floor and shoot corner three-pointers. Howard really isn't a neat and tidy fit for this offense. He could be just as much of a drag on this team as anyone or anything else.
Odds At NorthBet To Win The NBA Championship: +1350
Are They Worth A Shot On The Odds At NorthBet To Win It All?
The Rockets have championship-level talent, but don't expect this team to figure everything out this season. Houston could be a primary title contender next season, but not in this one. Stay in touch with your favorite teams with Northbet and be sure to like Northbet on Facebook.