2013 College Basketball Team Preview: Florida Gators
By Mike John
The Florida Gators lost in the Elite Eight round last season and the season before that and the season before that. Yet, this year's team would probably be happy if it got that far in the NCAA tournament. The explanation shouldn't be that hard to understand or appreciate for any NorthBet college basketball expert.
Florida's Strengths:
The Gators will be very strong in the frontcourt this season. Patric Young, an impressive physical specimen who could have realistically opted for the NBA, decided to stay in the college ranks for one more season in an attempt to polish his low-post offensive skills. Young needs to become a more effective interior scorer. He has to make his jump hook more reliable while also adding a 12-foot jump shot. If he can become a better back-to-the-basket scorer when he receives the ball at or near the low block, Florida's halfcourt offense will become that much more formidable.
Florida will also be helped by the return of forward Will Yeguete, the no-glory grinder on this team. Yeguete is that kind of player every basketball team needs. He throws himself into the fray for loose balls and rebounds. He takes on the toughest defensive assignments and absorbs a lot of contact in the paint. His chief virtue is that he is willing to do everything other than scoring, freeing up his teammates for the fatter stats and the fame that goes with them.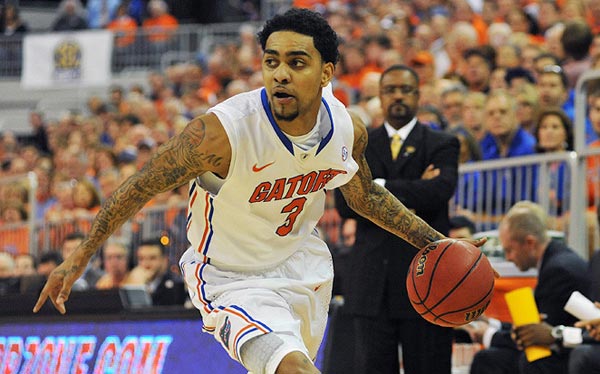 Yeguete is content to stay out of the limelight and make the kinds of plays that help a basketball team win. As long as suspended guard Scottie Wilbekin can learn from his mistakes and provide solid leadership in the backcourt, Florida could have an appreciably balanced and competitive team this season.
Freshman Kasey Hill is seen by some observers as a potential difference-making force for this team as well, but it's too early to assess just how well he'll do this season. If Hill lives up to the hype that surrounds him at the moment, Florida just might be able to make it four straight Elite Eights if not more.
Florida's Weaknesses:
The Gators were so tough to contend with last season because their backcourt was so deep, skilled and aggressive. Wilbekin was joined by Mike Rosario and Kenny Boynton, forming a trio that was decent on offense but great on defense. These three players rotated so well on the perimeter and were able to lock down opposing shooters. They provided extensive on-ball pressure at every spot on the floor and forced opponents to take a lot of time to get into their initial offensive sets. Florida squeezed its foes last year because of the defensive energy of its three-headed backcourt. With Rosario and Boynton gone, the Gators are going to suffer in the backcourt.
Odds AtNorthBet To Win National Championship: +2100
Are They Worth A Shot On The Odds At NorthBet To Win It All?
Florida should still be a factor in the race to the Final Four, but the Gators don't have the depth or experience needed to go that far. A Sweet 16 season is where this team should probably end up, and if not the Sweet 16, probably the round of 32 instead of the Elite Eight.
Check out the latest Northbet sportsbook ratings to see why Northbet is becoming so popular amongst sports fans.