2012 March Madness Midwest Region Predictions
By Dennis Berry
NCAA Tournament: Breaking down the Midwest
North Carolina was the lowest ranked number seed in the tournament this year. Their reward was a trip to the Midwest region, which takes place in St. Louis. They may not feel so lucky if they make the Elite Eight and they face their two seed: Kansas.
Other than that there is nothing really for the Tar Heels to worry about. The Midwest does not have that much in way of power teams. There is Kansas which will have the most fans in St. Louis if the Jayhawks make it there. Georgetown is a talented team sitting in out there as the three seed.
Those are about the only three teams that we can see being able to come out of that region.
UPSET ALERT!
(11) NC State over (6) San Diego State
The Wolf Pack had to sweat it out on Selection Sunday, but in the end they did enough to make the field. The Aztecs won their conference in the regular season, while the Wolf Pack finished fourth in the ACC. NC State seems to have played with a chip on their shoulder trying to prove that there is more than just UNC and Duke when it comes to basketball in the state of North Carolina.
Dark Horse
Georgetown. How can a three seed be considered a dark horse; because no one is taking about them. This region has been broken down to either North Carolina or Kansas. The Hoyas are floating under the radar and match up really good with Kansas if they meet in the Sweet 16 and has the depth to give North Carolina a scare.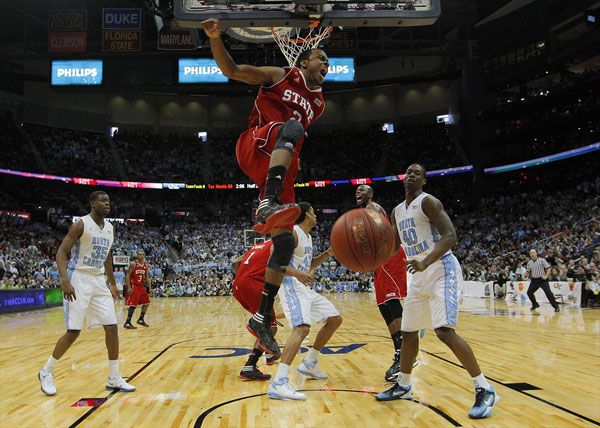 Who will be going to the Final Four?
North Carolina. We picked the National Championship game to be Kentucky-North Carolina way back before the season started. We still believe that will be the case, so we have to go North Carolina here.
Check out our Preview of SEC in the 2012 NCAA Basketball Tournament