2012 Final Four Preview
By Dennis Berry
This weekend the college basketball world will have the eyes on New Orleans. Four teams will compete for the NCAA National Championship. It would be harder to get a better four teams then who will be fighting for the championship.
Each team will be looking to add another title to their storied program. To get the chance to play on Monday night, they will have to get through Saturday night. Let's take a look at both games.
Kansas Jayhawks versus Ohio State Buckeyes
The final game Saturday night features two of the best big men in the country; Kansas' Thomas Robinson and Ohio State's Jared Sullinger. This will be the marquee matchup that will get the most attention leading up to the game.
When you look at their numbers, they are similar. Thomas Robinson averaged 17.9 points, 11.8 rebounds a game while shooting 51% on the season. Jared Sullinger averaged 17.6 points, 9.3 points a game while shooting 53% from the floor.
Yet play different type of game. Robinson likes to play above the rim and the majority of his points come in the paint. While Sullinger is not as explosive as Robinson, he can score in the paint and is a better perimeter shooter then his Kansas counter-part.
Robinson received a lot of Player of the Year hype from the media, something the Sullinger lost out on after a back injury and a bad run in February. When Kansas beat Ohio State in December 78-67 Sullinger did not play.
These two players will not back down from the challenge the other presents, so then their teammates to help them to victory.
The next match up to watch is Ohio State's Aaron Craft and Kansas's Tyshawn Taylor at the point guard. Taylor is the Jayhawks second leading scorer at 16.7 points a game and leading assists man with 4.7 a game. Craft only averages 8.6 points a game, but is the Buckeyes defensive specialist.
Will Craft defense slow down Taylor's explosiveness?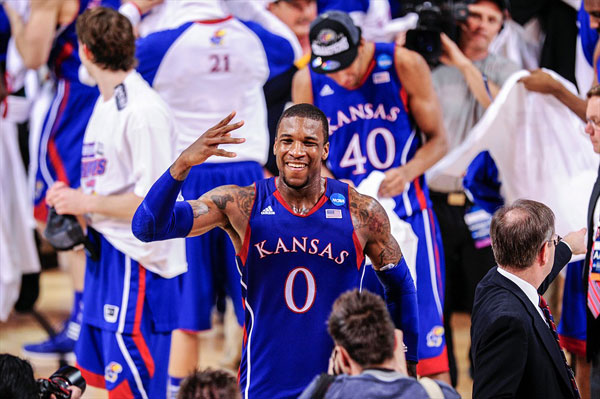 Craft is a great defensive player. Can he keep Taylor out of the game. Taylor has struggled shooting the past couple of weeks. Taylor has struggled shooting the ball in the NCAA Tournament. He has yet to hit a three point shot, going 0-17 from behind the arc.
If Taylor can hit some jumpers, that may give him some room to attack the basket. If he is not and Craft can keep him out of the lane, may determine the game.
Don't forget about the other starters for Kansas; Jeff Withey and Elijah Johnson. Withey has really stepped up his game in the post for Kansas in the NCAA and has become a real defensive force. Elijah Johnson may be Kansas' best perimeter player.
For Ohio State two players to keep an eye are Deshaun Thomas and William Buford. Thomas has turned into a real scoring threat for Ohio State in the NCAA's. He gives the Buckeyes plenty of rebounding and interior scoring.
Burford may be the X-factor in this game. He is struggled shooting the ball in Boston. He went 4-20 from the field and 2-7 from the three point line. He is a senior who has would like nothing more to go out with a NCAA Championship. The Buckeyes will need Buford to be at his best to win a title.
Louisville Cardinals versus Kentucky Wildcats
The bourbon state invades Bourbon Street. As if the rivalry that is Kentucky and Louisville did not need more spice, now we get the two teams in the Final Four. Of course most of the attention will be on the sidelines as John Calipari versus Rick Pitino.
Kentucky will enter the Final Four as the favorite. They were the only one seed to reach New Orleans. So that means the pressure will be on them and John Calipari to win it all. Louisville would like nothing more than to keep that from happening.
How can Louisville do that? Defense.
Louisville has been playing their best defense of the year in the Big East Tournament and in the NCAA. In the West Regional they were able to use a zone to confuse Michigan State. Then the Cardinals went full court to wear down the Spartans and advance. Against Florida, Louisville tried to play zone, but Florida was hiting everything. Louisville then went to man defense and were able to shut down the Gators.
Being able to switch up your defense in the middle of the game could be a major factor in the game.
Kentucky is pretty good at defense themselves, plus they are one of the best offensive teams in the country. They average 77 points a game, while holding teams to just 61 points a game. Kentucky has the most talent on their team, but the great thing is they play as a team. They can score from any position, but do not care who does the scoring. They just want to win.
So what are some match ups to watch? The most interesting will be Anthony Davis versus Gorgui Dieng. Davis averaged 14.3 points, 10 rebounds, and 4.6 blocks a game. Dieng averaged 9.4 points, 9.1 rebounds, and 3.2 blocks. Dieng will have to play his best to counter Davis in the post. He does not have to match him offensively, but he does need to protect the rim defensively for the Cardinals.
Another match key matchup will be at the point as well; Marquis Teague versus Peyton Siva. Both players have stepped up their games in the NCAA's. Both players have turned into the floor generals their teams need. They both will have to keep that trend going if they want to win a title.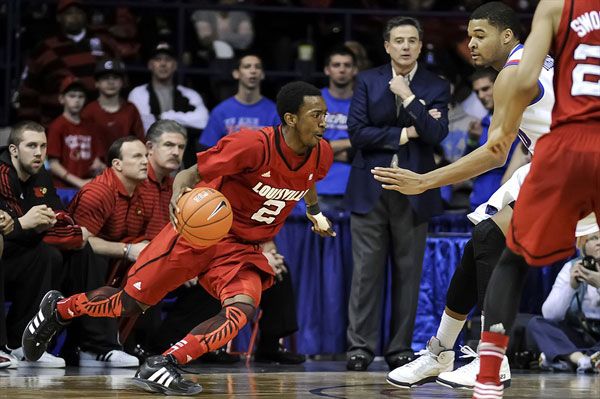 Who could be X-factors for their team? For Kentucky it is Terrence Jones. He has been playing some of his best basketball in the NCAA's. He has been attacking and aggressive on offense, but has not tried to do too much on offense.
For Louisville it is Russ Smith. He is instant offense coming off the bench for Louisville. He was the only Louisville player to reach double figures in points when these teams played in December scoring 30 points.
There are plenty of players for both sides. Kentucky has Doron Lamb, Darius Miller, and Michael Kidd-Gilchrist. Louisville will counter with Chris Smith, Kyle Kuric, and Chane Behanan.
Kentucky has the edged experience wise. They were in the Final Four last year and three key players - Miller, Jones, & Lamb - know what it is like to be on this stage. They have the hunger to bring home another national title.
A plus for Louisville is the know Kentucky pretty well. The played the Wildcats on New Year's Eve. They lost that game 69-62. While Kentucky was blowing out most teams, Louisville kept it close. They know that they can compete with Kentucky.
It should be a fun Saturday night in the Big Easy on our way to crowing a National Champion.