2012 College Basketball Tip-Off Marathon Preview
By Dennis Berry
For college basketball fans, the summer is a long length of time. With no games being played from April until November, there is not a lot to get excited about.
Fans can follow practice reports for their team to get an idea of what they will look like in the upcoming season, though. They can also keep track of camp reports to see who is moving up and down in future recruiting classes.
Yet there are no games being played.
Still college basketball enthusiasts got some news to get them excited about the start of the 2012-13 season. On Wednesday afternoon ESPN released the schedule of games for the 2012 ESPN Tip-Off Marathon. The marathon will take place on Tuesday, November 13.
Here is how the Marathon will go this year what each game has to offer:
Midnight – West Virginia at Gonzaga
This is a great game to start the marathon off with as Gonzaga is always a great atmosphere. This is a rematch from the second round of last year's NCAA Tournament. Gonzaga won that game 77-54.
Gonzaga will be led by the return of Elias Harris and Kevin Pagnos. West Virginia will return with center Deniz Kilcli; plus, the Mountaineers will also expect a lot out of transfers Aaric Murray and Juwan Staten.
2:00 AM – Davidson at New Mexico
The 2:00 am game features two NCAA Tournament teams in Davidson and New Mexico. That alone is a positive, but it will also take place at The Pit. That is just another plus.
New Mexico returns three starters in Tony Snell, Hugh Greenwood, and Kendall Williams as well as a top scorer off the bench, Demetrius Walker. Davidson will return five starters who averaged at least 10 points a game last year, the best being De'Mon Brooks.
4:00 AM – Houston Baptist at Hawaii
OK, at this point in the morning you might find it a little tough to make it through. It will be four o'clock in the morning and you will be watching Houston Baptist and Hawaii.
Houston Baptist will return top scorers Marcus Davis and Art Bernardi, but they do not have much else. The Warriors will feature Vander Joakim, last year's leading scorer, and Joston Thomas.
6:00 AM – Stony Brook at Rider
Alright it's 6:00 am. Most people on the East Coast are getting ready for their work day, but you will be up watching Stony Brook and Rider.
The Seawolves will be led by junior Dave Coley. The Broncs will feature juniors Daniel Stewart and Anthony Myles.
8:00 AM – Northern Illinois at Valparaiso
Hopefully you will have your coffee ready because you might need it right about now. Luckily, the eight o'clock matchup is a good one.
Northern Illinois is coming off a terrible five win season, but will return Abdel Nader who was second in scoring last year as a freshman.Valparaiso could enter next year as a favorite to win the Horizon League and will be led by Seniors Ryan Broekhoff and Kevin Van Wijk.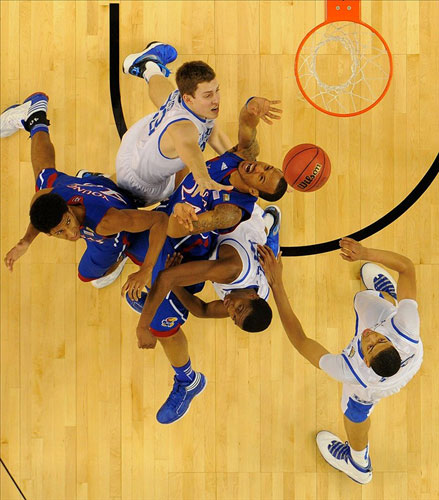 10:00 AM – Harvard at Massachusetts
If you made it through the last three games, this is your reward. A matchup that will feature two teams that can and should in the hunt for a conference championship.
Massachusetts will be a sleeper pick to win the A-10 championship and will feature Juniors Chaz Williams and Raphiael Putney. Harvard will be the favorite to win the Ivy League led by Senior Kyle Casey and Junior Laurent Rivard.
12:00 PM – Temple at Kent State
The noon matchup should be a good match up for your lunch. It features Temple, a NCAA tournament team last year, and Kent State, who won 21 games last year.
Temple will feature Senior Khalif Wyatt, who averaged 17 points a game last year for the Owls. Kent State will be led by Randal Holt, who was second in the team in scoring last year.
2:00 PM – Detroit at St. John's
The afternoon will kick off with a look at perhaps the best player in the marathon: Detroit's Ray McCallum Jr. Last year he averaged 15.4 points a game and led the Titans to their first NCAA Tournament since 1999.
Steve Lavin will have another young group of players to work with at St. John's. Lavin will have one of the best shooting guards in the nation in sophomore D'Angelo Harrison, who set a record for most points scored as a freshman at St. John's.
4:00 PM – Butler at Xavier
Butler versus Xavier will be the most interesting game of the afternoon. If you could not get off work to watch the other games, try to get off early to catch this one.
This will be Butler's first taste of what life in the A-10 will be like. The funny thing is that this is a non-conference game because it was announced before Butler joined the A-10.
7:00 PM – Michigan State vs. Kansas
The first game of the Champions Classic features two teams that have changed a lot since last season. Both teams lost key players to the NBA Draft, but that does not change expectations for either program.
Michigan State will return Keith Appling, Travis Trice, and a healthy Branden Dawson to go with a Top 10 recruiting class led by Gary Harris. Kansas returns Elijah Johnson and Jeff Withey and add incoming freshman Perry Ellis.
9:30 pm (?) Duke vs. Kentucky
The second game of the Champions Classic features two of the best programs in all of college basketball. Duke will be looking to make a statement against defending NCAA Champion Kentucky.
Both teams may have lost key players to the NBA after last year, but each team is still loaded with talent. Duke returns Seth Curry, Ryan Kelly, Quinn Cook, Mason Plumlee and Tyler Thornton. Kentucky will once again be loaded with one of the best freshman classes in the country led by Nerlens Noel, Alex Poythress, and Archie Goodwin.
The 2012 Tip-Off Marathon should be another great 24 hours of basketball. The only question is, will you be able to make it through all 24 hours?