2011 NBA Western Conference Playoff Finals Preview
By Dennis Berry
The Western Conference is set with a matchup of two of the best scorers in the playoffs. The Oklahoma City Thunder led by Kevin Durant faced the Dallas Mavericks led by Dirk Nowitzki. Going into it, this appears to be series of offense versus defense.
Oklahoma City is the highest scoring team in the 2011 playoffs. They come into the conference finals averaging over 100 points a game. Dallas is the third best defensive team only giving up 88.2 points a game.
| Team | Playoff Games | Points Scored | Points Allowed | Field Goal % | Opp.FG% | 3 Points% | Opp 3pt% |
| --- | --- | --- | --- | --- | --- | --- | --- |
| Oklahoma City | 12 | 103 | 98.6 | 46% | 41% | 33% | 34% |
| Dallas | 10 | 96.9 | 88.8 | 47% | 44% | 42% | 26% |
It will be interesting to see which team will be able to enforce it's style of play in this series. For Oklahoma City to win, they will have to push the tempo and look for points in transition. Dallas will want to make this a half court game and work the shot clock down.
The key to defeating the Mavericks is to stop Dirk Nowitzki. The seven foot forward from Germany is having another playoff run. His is averaging 26.5 points in 10 playoff games this year. So who on the Thunder will guard him? His ability to post up, shoot the ball from the three point line, and dribble into the lane makes him almost unstoppable. The Thunder will probably give Serge Ibaka, who is averaging 4 blocks a game in the playoffs, the first crack at him.
Nowitzki has been on shooting lights out in the playoffs so far. He is making almost 50% from the field in 10 games in the playoffs. At the same time he is shooting 60% from the three point line.
| Player | Games | Points | Field Goal % | 3 Points% | Rebounds |
| --- | --- | --- | --- | --- | --- |
| Dirk Nowitzki | 10 | 26.5 | 49% | 60% | 8.4 |
Likewise, Kevin Durant is having just as big a playoff run. He scored 39 points in game seven to eliminate the Memphis Grizzlies. In the playoffs Durant is averaging 28.9 points a game. Although he is not shooting as high of a percentage as Nowitzki, he still finds a way to put the ball in the basket.
| Player | Games | Points | Field Goal % | 3 Points% | Rebounds |
| --- | --- | --- | --- | --- | --- |
| Kevin Durant | 12 | 28.9 | 45% | 38% | 7.6 |
Durant at times can seem like he disappears in the offense. He needs to be aggressive and demand the ball. If the Thunder want to make it to the Finals, they need him to score in bunches.
Which supporting cast will step up in this series?
For Dallas Jason Terry has stepped up in the playoffs. His is averaging 18.3 points, while shooting 52 % from the field and 50% from the three point line. Peja Stojakovic also had some big moments in the sweep of the Lakers. He is averaging 10.7 points, but his shooting off the bench has been a big plus. Stojakovic is shooting 46% from the three point line.
For Oklahoma City, Russell Westbrook will be expected to have to play a big role. In these playoffs he is averaging 23.9 points and 7 assists. He has taken some criticism for taking too many shots. Westbrook is the second scoring option for the Thunder, but he needs to get better at not taking too many bad shots. The Thunders other scoring option is James Harden, who can be a streaky shooter.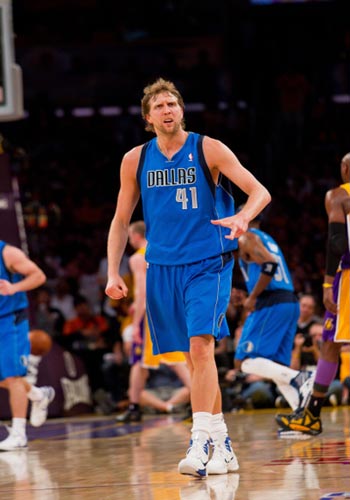 Like in the Eastern Conference Finals, this series is void of dominate big men in the paint. For Dallas you will see Nowitzki play in the paint and post up when he feels he has an advantage. Other than Nowitzki, Dallas will rely on Tyson Chandler to control the paint on defense and rebounds.
For Oklahoma City, they have a nice rotation of big men, but none that really dominate the paint, Ibaka is a good defensive presence but is not a big time scorer. He can help extend offensive possessions by getting offensive rebounds. Nick Collison is another good defensive player and can extend Dallas' defense if he is hitting jump shots. Kendrick Perkins and Nazr Mohammed both know what it takes to win at this level in the playoffs and are mainly there for defense and rebounding.
Going into this series one would have to believe that Dallas has the upper hand. Their core players have been here before and have proven that they can win at this level. Oklahoma City's young team will get its first taste of a conference championship.