2011 NBA Finals Preview
By Dennis Berry
2011 NBA Finals: Dallas Mavericks versus Miami Heat
The 2011 NBA Finals are set and it features two teams that are playing their best basketball of this season. It is also a rematch of the 2006 NBA Finals. The Dallas Mavericks will face the Miami Heat in the Finals, which began Tuesday night.
This series is not short on star power. The Heat features the "Big 3", Chris Bosh, Dwyane Wade, and LeBron James. The Mavericks will counter with Dirk Nowitzki, who is perhaps playing the best basketball of all the playoffs.
These teams only played twice in the regular season, with Dallas winning both games. The average score in those games was 102-95. There is one interesting note about the point in the season when these teams played. Miami went 22-2 during a stretch between November 26 and January 9. The only team that defeated the Heat during that stretch? The Dallas Mavericks.
In the playoffs these have been the two best teams. Miami is 12-3 in the playoffs (4-1 Philly, 4-1 Boston, and 4-1 Chicago). They have only averaged 92.9 points a game in the playoffs, but they are only giving up 88.3 points. They have held their opponents to 42% shooting from the field.
Dallas is 12-3 in the playoffs (4-2 Portland, 4-0 LA, and 4-1 OKC). Dallas has averaged 99.5 points a game, second best in the playoffs. They have also stepped up their defense, only giving up 92.5 points a game.
Both teams' defense was on display in the conference finals. Dallas came back in games four and five, shutting down Oklahoma City's offense in the final minutes. Dallas came back after being down 15 points with five minutes to go in game four and came back after being down six points with three minutes to go in game five. Miami was down 12 with three minutes to go in game five, but used an 18-3 run to come back and clinch a Finals berth.
As far as this finals match up goes, the main question for Miami will be who guards Dirk Nowitzki? He has been playing at perhaps his highest level in these playoffs. Right now he is almost unguardable. His is averaging 28 points a game in the playoffs. He scored 48 in game one and 40 in game four. He is shooting 51% from the field and 51% from three.
So who will Miami throw at him? To start you will probably see Chris Bosh get matched up on him. Bosh should be able to cover him almost any where on the court, but may not be quick enough to keep up with Nowitzki on the outside. Udonis Haslem can also expect to guard Nowitzki.
If it is close at the end of any game, expect LeBron James to move over on him. James may give up some height to him, but James has shown the ability to guard anyone. Nowitzki averaged 24 points against the Heat in the regular season, but shot only 38% from the field. Another odd stat, Nowitzki did not get an offensive rebound in either match up in the regular season.
If Miami was smart, they would let Dirk do whatever he wants offensively and not let anyone else beat you. With Dallas you need to worry about their shooters. Jason Kidd, Jason Terry, JJ Barea, and Peja Stokajovic have all had big shooting nights in the playoffs. Terry, Barea, and Stokajovic all have had big games coming off the bench. Miami cannot give Dallas open looks from the outside.
The X-factor in this series for Dallas may be Shawn Marion. He is only averaging 11 points a game in the playoffs, but he had a huge game five against Oklahoma City, scoring 26 points. Marion could help take the scoring load off of Nowitzki. This is Marion's first trip to the Finals, so he will have to step up.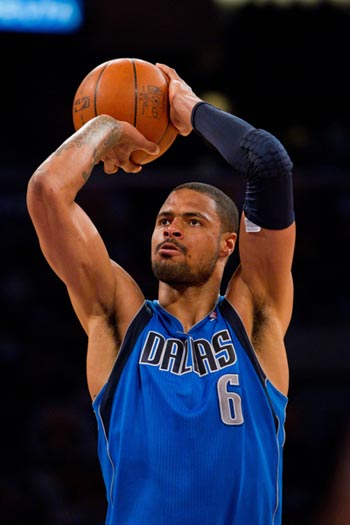 For Dallas to win, they have to find a way to stop Miami's "Big 3." As we have seen in the playoffs, that is a tough task. Miami has appeared to have figured out how to play together. When they are not playing tough defense, they are playing an unselfish style of offense. Sharing the basketball has not been a problem in the playoffs.
It seems that Wade and James have figured out how to work together in clutch moments too. In their run to comeback and clinch the East, both players scored eight points. Each hit huge shots, James with two threes and the game winner. Wade had a jumper and layup to go along with a four point play. James and Wade have done this to teams throughout the playoffs.
James is averaging 26 points a game in the playoffs. Wade is averaging 23.7 points. Chirs Bosh should not be overlooked. He is averaging 18.6 during this run. In fact in the conference finals, Bosh averaged 23 points and 7 rebounds a game. I bet the Bull's Carlos Boozer could take back what he said about Miami having, "two great players."
After the Big three the scoring drops off dramatically. One development that did happen in the conference finals was the return of Udonis Halsem and Mike Miller. Both of those players missed major parts of the season because of injuries. Both figured to be key parts of the team. They both had big moments in the conference finals. Haslem sparked the Heat in game two, while Miller had a big fourth quarter in game four.
Role players like Mike Bibby, Mario Chalmers, and Joel Anthony may not contribute much offensively, but they know what their roles are. They play solid defense and contribute when they can. Chalmers and Bibby need to hit jump shots when they are open and not turn the ball over on offense. Anthony just needs to play defense and rebound the ball.
The way the playoffs have gone for Dallas it almost seems to be their year. They took out the defending champions, the Lakers. Then they eliminated the young and explosive Oklahoma City team. Each step of the way, they are showing they have put past playoff failures in the past and are focused on what may be this group's last shot at a title.
Miami has felt the pressure on them all season. The struggles of the regular season seem to have been made stronger for the playoffs. They knocked out the defending Eastern Conference champs, the Boston Celtics. Then they were able to beat the team with the best record in the NBA, the Chicago Bulls, and the MVP Derrick Rose.
In the end, Miami should win this series. They have too many weapons for the Mavericks to try and stop. The Heat will win six games, but don't be surprised if these Finals go seven games.